CROCHET GLOVES
Free Warm And Cozy Mitten Patterns You Can Knit Or Crochet Patterns New 2021
The weather is starting to get colder now and here are the perfect crochet fingerless gloves for Autumn and Winter! The yarn, acrylic and wool blend used in this design is a soft touch blend and goes well with the design and allows you to create a beautiful accessory that you can wear when you want your hands to be warm. If the gloves need to be larger, you can add more stitches or use a larger size of thread and / or hook. This is an excellent and quick project to help you show how much you love Christmas! I hope you have fun using the mold and you will have even more fun using the glove.
I liked and accepted this idea. I immediately found a few designs for crochet mittens and then decided to create one that looks like flying hearts or flames, all using one of my favorite vest stitches to create beautiful designs and also to create a thick texture.
There is nothing better than your own made gloves to keep your hands warm in the winter! It is very easy to find mitt-knit patterns online, but not so easy if the crochet pattern we want. With these free patterns we'll teach you how to make your own mittens using the softest and warmest yarn, plus they'll be ready in a single afternoon so they're perfect for those cold days that come unexpectedly.
Heartstrings Fingerless Gloves
Materials
4.5mm (7) hook, or hook needed to obtain gauge
5mm (H) hook for wrist bands if you crochet tightly
Approximately 125-150 yards of Red Heart Soft in "Berry"
Yarn needle for weaving in ends
Scissors
Two, 5/8" buttons (I used Antique Silver Nordic Metal buttons by Belle Buttons by Dritz which appear to be discontinued now)
The star stitching creates the illusion of cute little hearts running in rows along the stylish crochet pattern of the Heartstrings fingerless gloves. It is a perfect cool weather fashion accessory for almost any occasion. The lightweight glove is also a great addition to the Heartstrings Ladies Slouch Hat, which I launched a few weeks ago.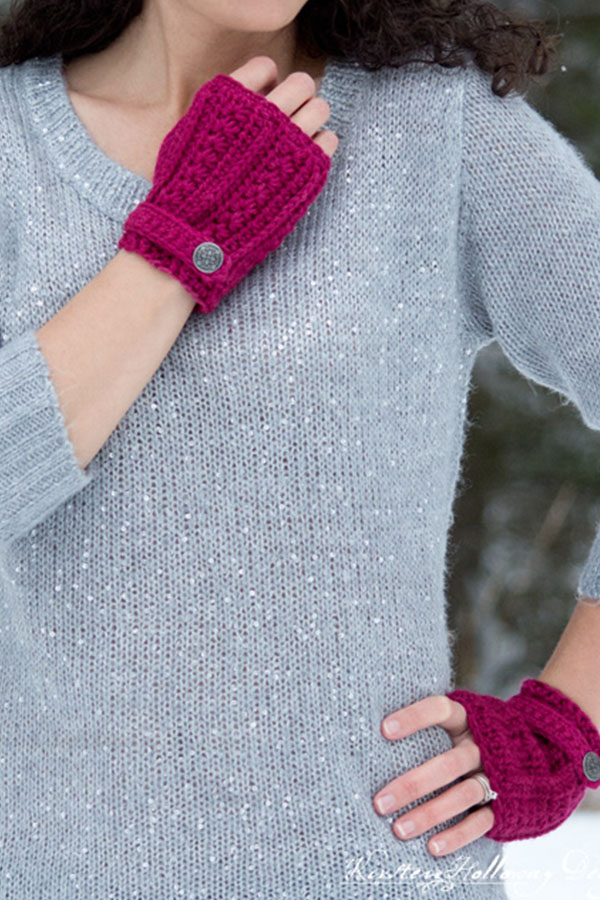 Heart in Hand Fingerless Gloves
Materials
no more than 50 yards each of white and gray worsted weight yarn (or the color of your choice). Shown is Red Heart Super Saver in white, gray, and red.
Size H(5mm) crochet hook -OR- size needed to obtain gauge
scissors, tapestry needle, tape measure, stitch marker
Gauge:
I am on the tighter side of crocheting, so you should check your gauge to be sure you are near to me. If not, you can go up or down a hook size until our gauges meet. For these, your 1st 4 rounds as worked should measure about 1 3/4″ tall and in 2″ wide you should have about 8 sts.
You can sell these patterns whatever you make, but I ask you to create your own images and use your own! Also, I ask that you never share, claim to be your own, or sell the template text. Instead, please always share the template link so that anyone interested can access it on their own. This allows me to keep offering you such free gifts! If you are selling, we really appreciate the Crochetverse designer!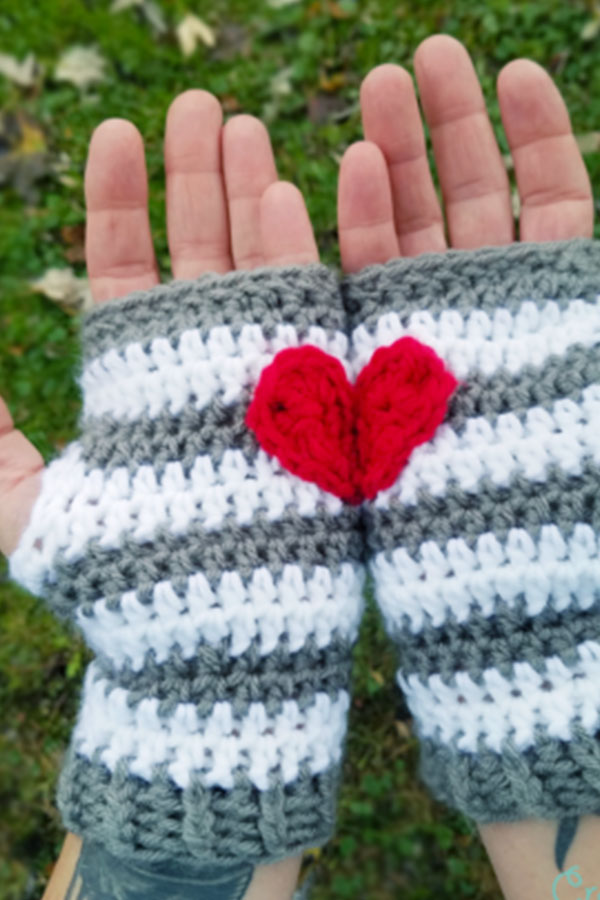 Bee's Knees Fingerless Gloves
Materials
Malabrigo Sock (in colorway Piedras) was used
for the main color, and
Malabrigo Lace (in colorway Frank Ochre) for
the contrast color. You will need very little of
each of these colors. (Much less than a quarter
of a skein each should do the trick.)
US 3 (3.25 mm) double-pointed needles
Stitch holder
Tapestry Needle
These simple, cute and striped fingerless gloves are bee knees! They are also economical – they can be made from a small amount of residual yarn. The base is made with a discolored facial suture and a seed suture is located along the edges. Use socks and / or thick lace wool for warm yet stylish accessories!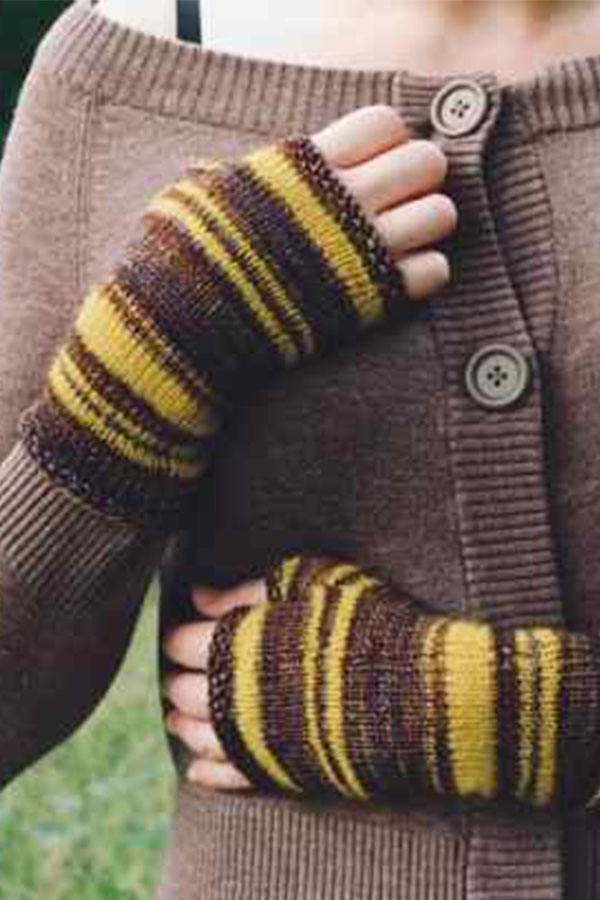 Idony Fingerless Gloves
Materials
50g (about 170yd/155m) of Wollmeise Sockenwolle 80/20 Twin in shade Vergissmeinicht (14wpi), or another sock or fingering yarn
3.5mm (E) hook
About 60 beads
Needle for weaving in ends
By the way, my yarn immediately turned out to be very beautiful and soft. I only needed to adjust the design once to add a few stitches around the palm, as vest stitching is not known to do much when it comes to stretching, especially when 2 colors are used at the same time.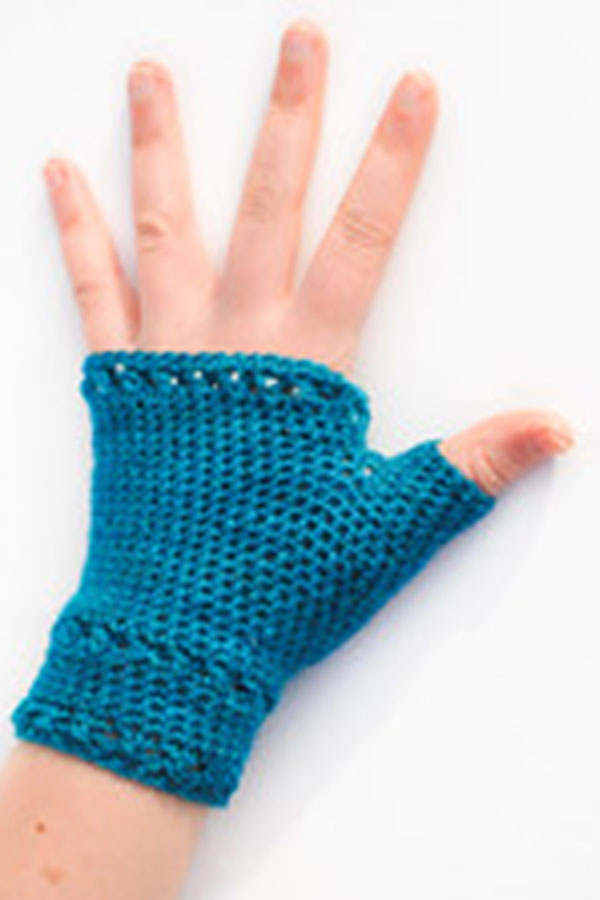 Cozy Striped Gloves
Materials
Approx 250 yds; 1 skein, Bernat Baby Blanket Tiny (colorway pictured: Gray Owl); Color A
Approx 50 yds; 1 skein, Bernat Baby Blanket Tiny (colorway pictured: Polar Bear) Color B
5 mm Crochet Hook
Darning Needle
Scissors
With this project, you will strengthen your pattern reading skills and also learn how to crochet mittens, a project that combines several items. Before you begin, go through this page in its entirety to understand the full scope of the project. We've compiled a list of recommended materials, acronyms, video tutorials, and written instructions to take these crochet gloves step by step.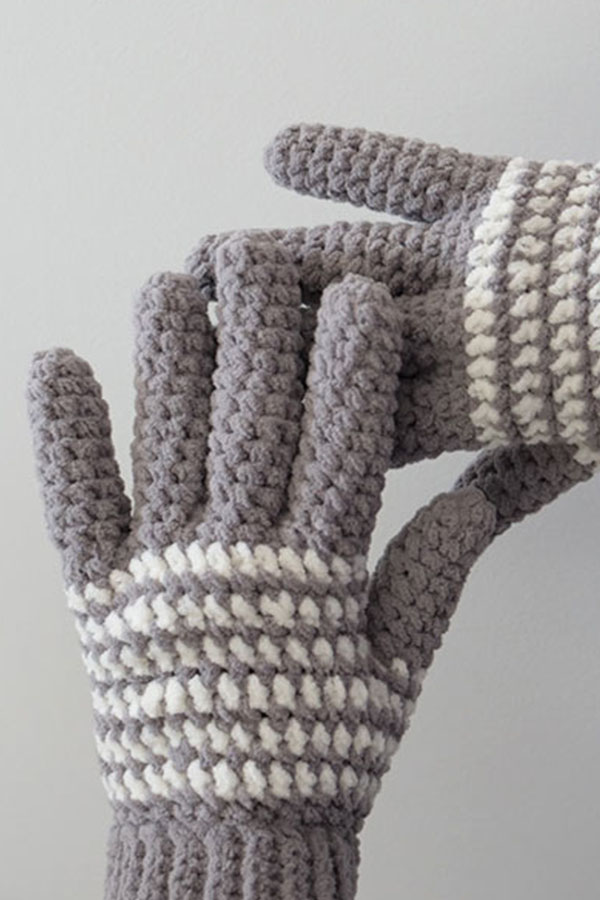 Super Fine Weight Crochet Gloves
Materials
3.25 (4) oz [91 (112) g] #1 super fine weight yarn: we used Patons Kroy Socks (75% washable wool/ 25% nylon, Color # 55612, Summer Moss Jacquard)
Boye® crochet hook, size D (3.25 mm), or size needed to obtain gauge.
Stitch markers
Boye® SensaThread™ conductive filament set 34076611231 – set includes filament thread and tapestry needle
These Candy Stripe Text Gloves may look like a regular pair of winter mittens, but they are truly the most impressive crochet pattern of the 21st century. This special crochet pattern features a special thread (Boye SensaThread conductive thread) at the fingertips that allows you to use these gloves while using your favorite touch device. Instructions are included to teach you how to knit this yarn directly into your mittens or sew after crochet.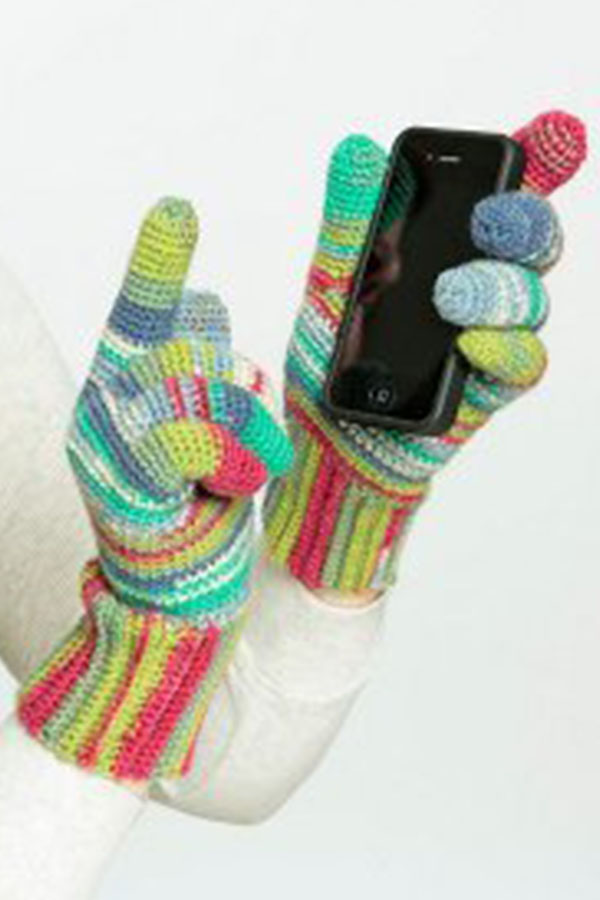 Single Cable Gloves
Materials
150 yards Patons Silk Bamboo DK yarn in Navy or yarn of choice
2.75mm double point needles (set of 4)
Cable needle (2.75mm or close)
3.5mm crochet hook (or size of choice) for finishing
Stitch holder
Stitch marker (optional)
Scissors
We both used the same thread and did the same to make gloves or mittens. Ironically, I wore gloves without knowing who the other designer was. A week later the winner was determined. People loved my design. So now, one year later, you'll be free to enjoy this pattern.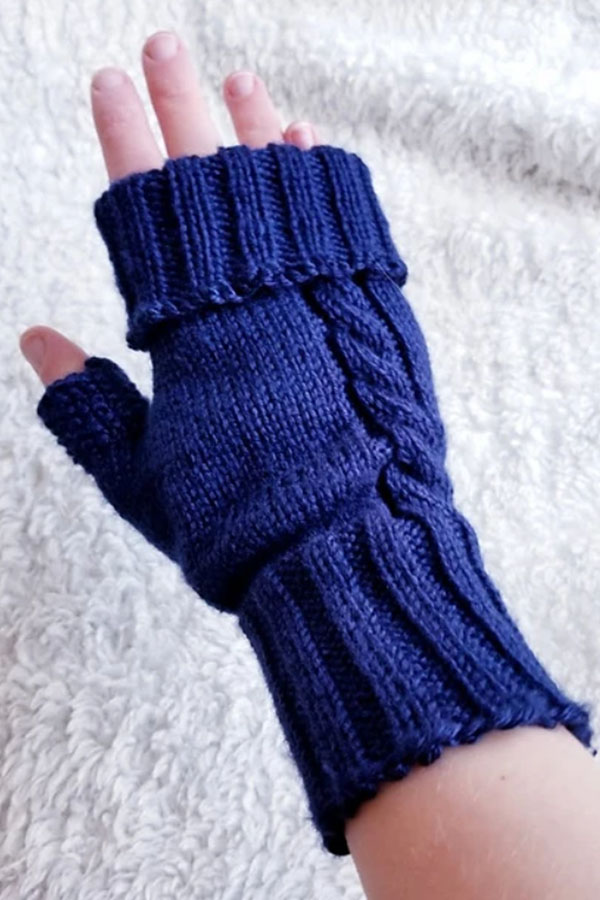 Lace Fingerless Gloves
Materials
Cascade Yarns Longwood Sport Color 22, one skein
Size 6 circular or double point needles (or size to
obtain gauge)
Gauge: 5 stitches per inch in ktbl, p2 ribbing
However, before showing you the materials and a real free crochet pattern, be sure to add this pattern to your favorites by clicking the button below, which allows you to show my pattern to more people who might be interested in making it.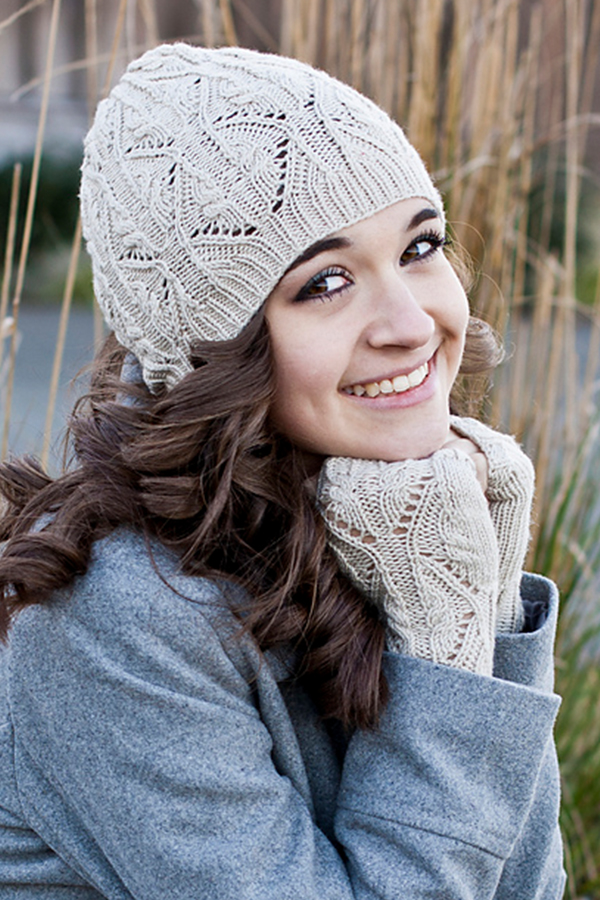 Textured Fingerless Gloves
Materials
8 ply (DK) yarn – Approx 80-100g per pair. Most acrylic DK yarns will be fine.
(I used approx. 200mtrs of Bendigo Woollen Mills Stellar yarn – 50/50 bamboo/wool)
3.5 mm Hook
Tapestry needle for weaving in ends.
Stitch Marker
Scissors
GAUGE: 20sts x 18 rounds = 10cm x 10cm approx. over LP stitch.
Textured fingerless gloves approx. 80-100 g of yarn. Acrylic, cotton or blend will work. There are 2 size options in the pattern and a few suggestions for resizing if needed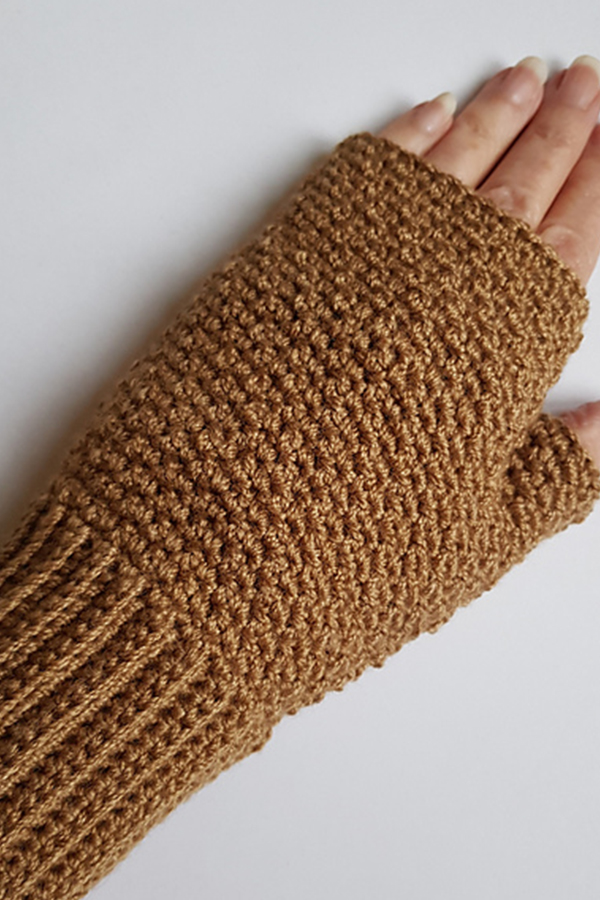 Perfect Fingerless Gloves
Materials
5mm Tunisian Crochet Hook
Approximately 100 yards of DK yarn per glove (200 yards for pair)
Yarn bobbin (or you can just wind the yarn into a ball)
Row counter
2 Stitch Markers
These are probably the simplest fingerless glove patterns in the world. The elastic thread glove that follows the shape of your hand is a simple crochet tube with a closed section for the thumb hole.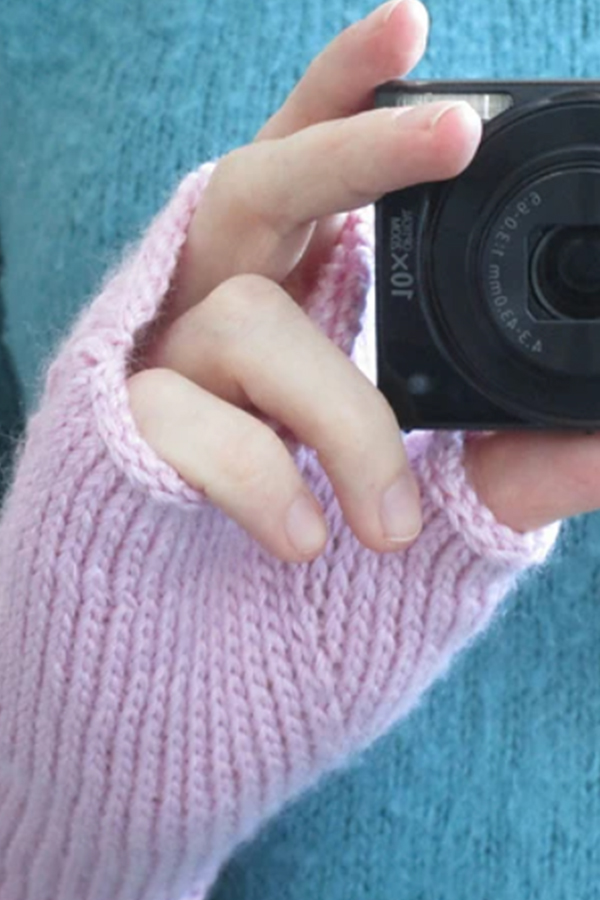 Bulky Fingerless Gloves
Materials
1 Skein Super Bulky Yarn-any color
Size 17 Knitting Needles
Tapestry needle to weave in ends and sew up seam
Gauge: Close to 2.5 stitches per inch
As a beginner knitter, I wanted to find a pattern for fingerless mittens. There are definitely a lot of patterns, but I wanted something quick and didn't need to be knitted in a circle. Let me tie it straight, okay? I created my own pattern from super thick yarn in a beautiful mustard / straw color. I used Lion Brand Wool – Ease Thick and Quick on Citron. It reminds me of straw, very beautiful.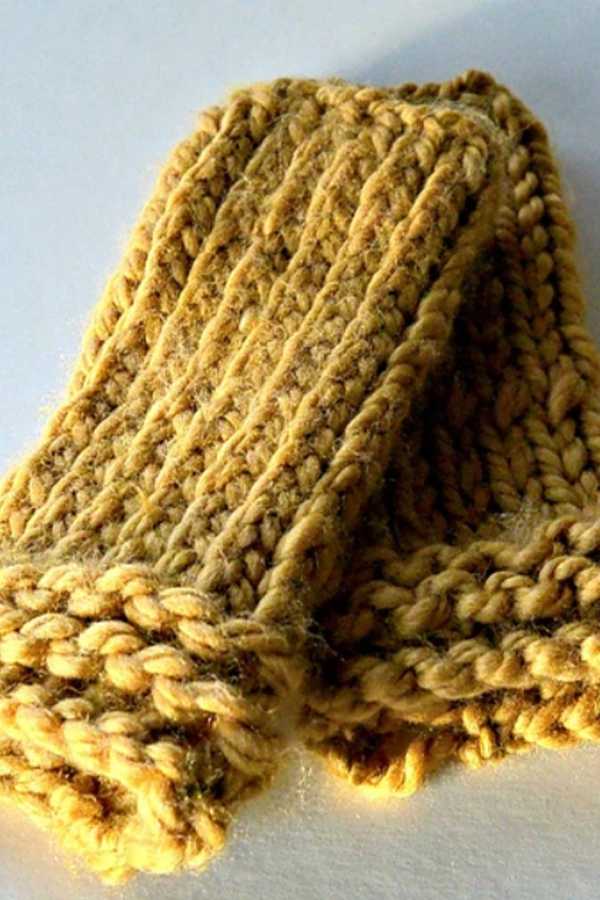 Connectivity Gloves
Materials
Yarn
The Fibre Company Canopy Worsted[50% baby alpaca, 30% merino wool, 20% bamboo; 200 yd per 100g skein]; 1 skein; color: Sumac or Obsidian
Note: See SIZE section above for note on color use
Feel Good Yarn Company SilverSpun[87% combed cotton, 11% silver, 2% lycra; 173 yd per 50g skein]; color: Natural; 1 skein
Recommended needle size
US #2/2.75mm needles for working in the round
US #5/3.75mm needles for working in the round
Notions
yarn needle
waste yarn in a smooth thin fiber. Crochet cotton is ideal. Dental floss works in a pinch.
stitch markers
GAUGE
22 sts/30 rounds = 4 inches in stockinette stitch with MC on larger needles
32 sts/44 rounds = 4 inches in stockinette stitch with CC on smaller needles
This pattern started from "knitting glove with SilverSpun and Fiber Company yarns". I chose to knit two different weights to make a textured difference. Knitting the body of the mittens with a heavier thread gives them a little more warmth and speeds up knitting. I wanted to create a pattern that would highlight the beauty of Canopy Worsted and the conductive properties of SilverSpun.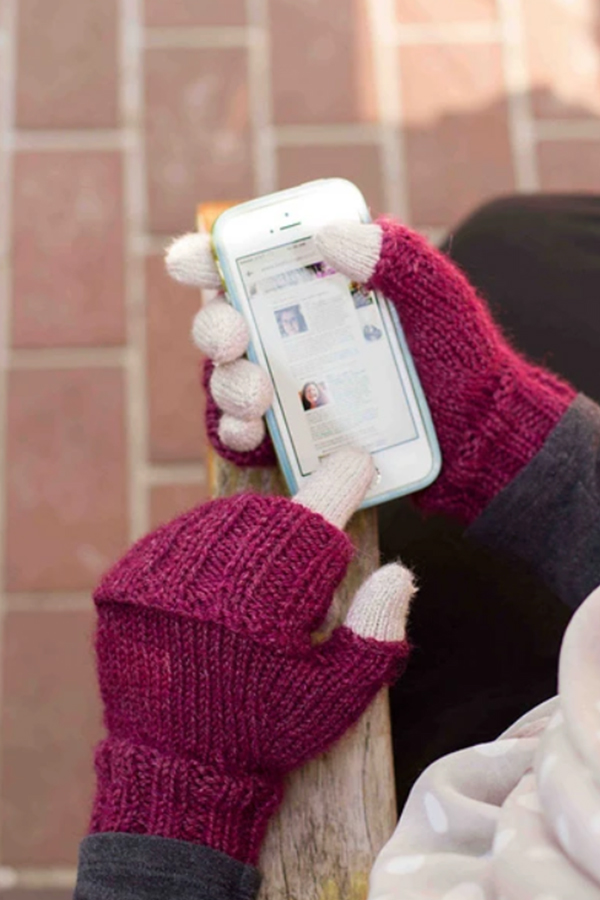 Simple Noro Striped Gloves
Materials
Two skeins of Noro
Kureyon Sock yarn (or other fingering weight
yarn) in two different colorways, one set of four
or five size 1 DPNs. The pattern is written for
DPNs but two size 1 circular needles, or one size
1 long circular needle for the magic loop method
could be substituted.
Gauge: 8 sts and 12 rows over 1" by 1" in
stockinette in the round
These are simple striped mittens knitted from the cuff in a 3-row pattern. The pattern is written for knitting on a DPN set, but a magic loop can also be performed. As it is written, they will fit a small woman's hand with a palm circumference of 7 inches. Larger needles can be used for larger sizes.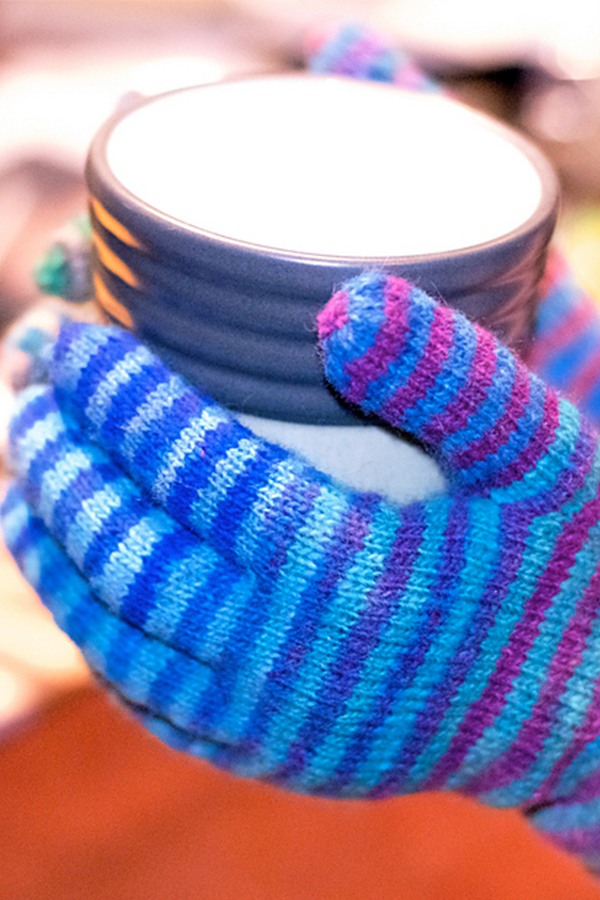 Puff Stitch Fingerless Gloves
Materials
1 Skein (Approx 110 yards), Vickie Howell Sheepish Stripes Citrus
5 mm Crochet Hook
Darning Needle
Scissors
We order all household items, gifts, crochet accessories and even some food on Amazon. If we had to pay for shipping, we could not save. Amazon Prime members enjoy two-day free shipping of eligible Prime products, along with a host of other benefits such as free movie and TV show streaming and free music streaming.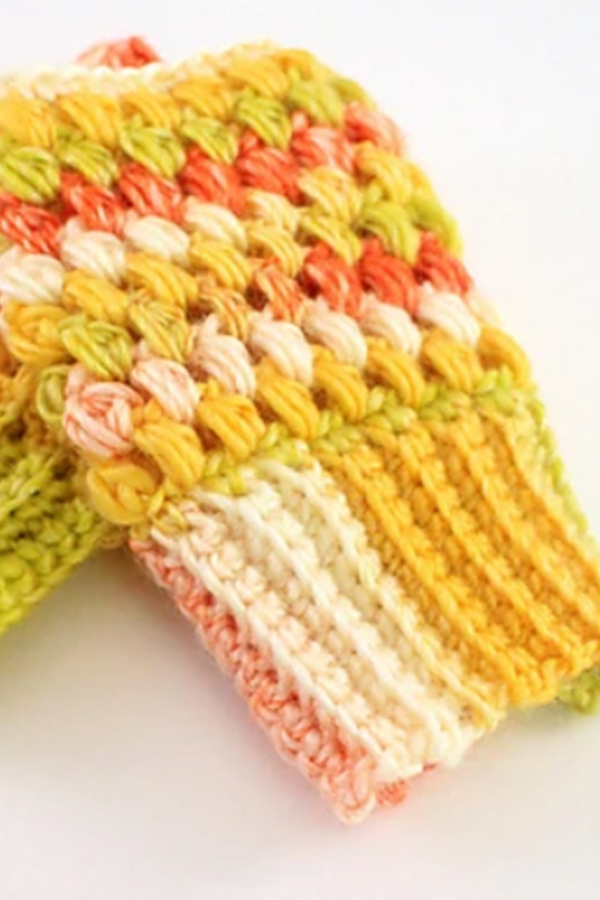 Coraline Gloves
Materials
Cascade Yarns Cash Vero [55% merino, 33% acrylic, 12% cashmere] Color #006 – pumpkin (MC), #032 – Olive (CC1), #002 black (CC2), : One ball each
Stitch markers, darning needle, scrap yarn for holding stitches.
Note: One ball of each will most likely give you two pairs of gloves, if not three depending on the size of your hands.
Needles: Size 6 or whatever size needed to get gauge
Gauge: 5 sts/inch
Coraline also gives a good braid. There's definitely a cute star sweater, but there's also a pair of gloves that Coraline – and me – desperately want. However, there is no model yet. There were no models until when I did yesterday.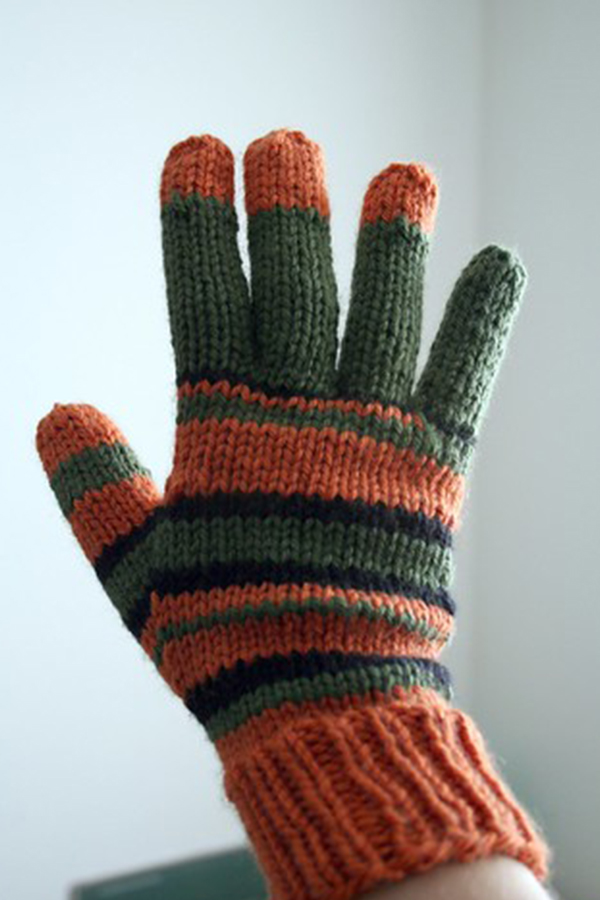 Fingerless Gloves/Glittens
Materials
Set of 5 plus spare needles to hold stitches not being worked (or use a length of yarn if you don't have spare needles, but it is harder to slip sts on/off as needed)
I knit the fingers and thumbs on 4 needles as there were so few stitches
I used 3.25mm needles but I knit quite loosely so you may need to use 3.75 or 4mm to get the right tension
Tension
22sts to 4ins/10cms
My tension is quite loose, so I needed to use 3.25mm needles (UK no 10)
I had cold hands and decided I wanted a pair of straws (fingerless gloves with gloves on top). The first pair I made with Lornas Laces, which is very soft and warm but not so good when wet! So I raided on a cheap and fun acrylic stash and realized that I wouldn't be enough to make a pair in one color, so I was a bit caught up in it.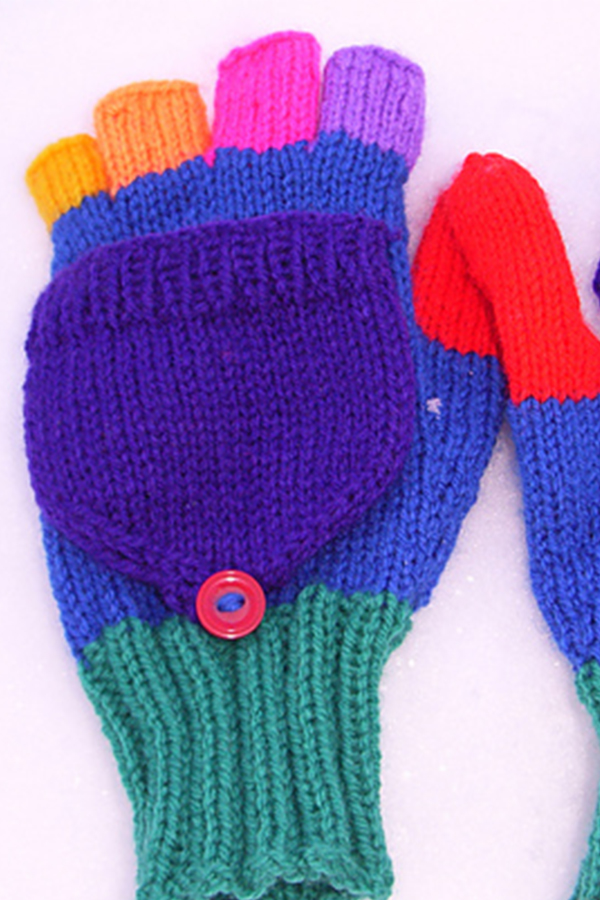 Candy Kane Gloves
Materials
Yarn
Fleece Artist Sea Wool [70% merino, 30% seacell; 320 m per 112g skein]; color: gray; 1 skein
Recommended needle size
1 set US #1.5/2.5mm double-point needles (recommended; see Pattern Notes)
Notions
stitch marker
waste yarn (for holding stitches)
yarn needle
GAUGE
32 sts/44 rounds = 4 inches in stockinette stitch
36 sts/44 rounds = 4 inches in cuff pattern stitch
This pattern came about because I wanted to work with something thicker and warmer than the yarn I usually use, but still create an air of sophistication. Perfect for those who love cables and want to try something different.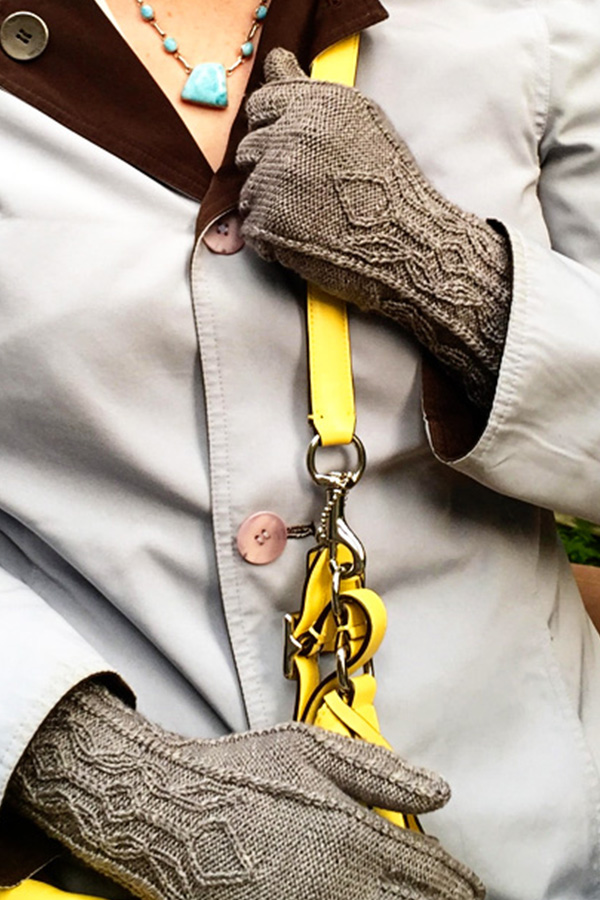 Albuquerque Gloves
Materials
Size 1 (2.25mm) long circular
or DPNs
Yarn: Knit Picks Palette: A1 Garnet (1
ball), A2 Salsa (1 ball), A3 Golden (1
ball); B1 Sky (1 ball), B2 Pool (1 ball),
B3 Blue Note (1 ball)
Notions: Scrap yarn, stitch markers
Gauge: 9sts/in, 10rows/in
Finished Size: Women's Small/
Medium
Fair Isle Gloves with Southwest Flair! The main reason is the Zia symbol with "arrows" on its diagonals. Lines and palm pattern are taken from Pueblo pottery. I haven't recorded the exact meter of these gloves, but that's less than 1/4 of the ball for all but one color.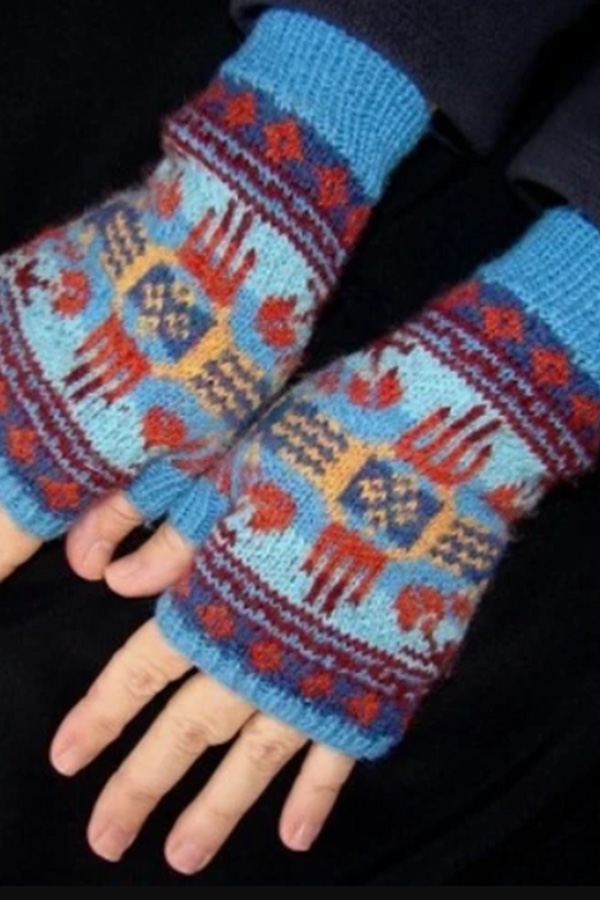 Sketching Gloves
Materials
About 60-75 g (or 180-200 m) sport yarn, (e.g. Drops Alpaca or Arwetta Classic)
One 3 mm crochet hook
Gauge: 24 stitches and 18 rows in hdc measures 10×10 cm in the round. Adjust hook size to fit as necessary.
These gloves are quick and easy to make. The glove is round and enlarged to create a gusset around the thumb for a perfect fit. The pattern uses chain stitch, slip stitch, single crochet, half double crochet and double crochet on the front shelf – don't panic if you haven't tried double crochet on the front shelf, it's pretty easy to learn and there are lots of instructions available. Found on the Internet.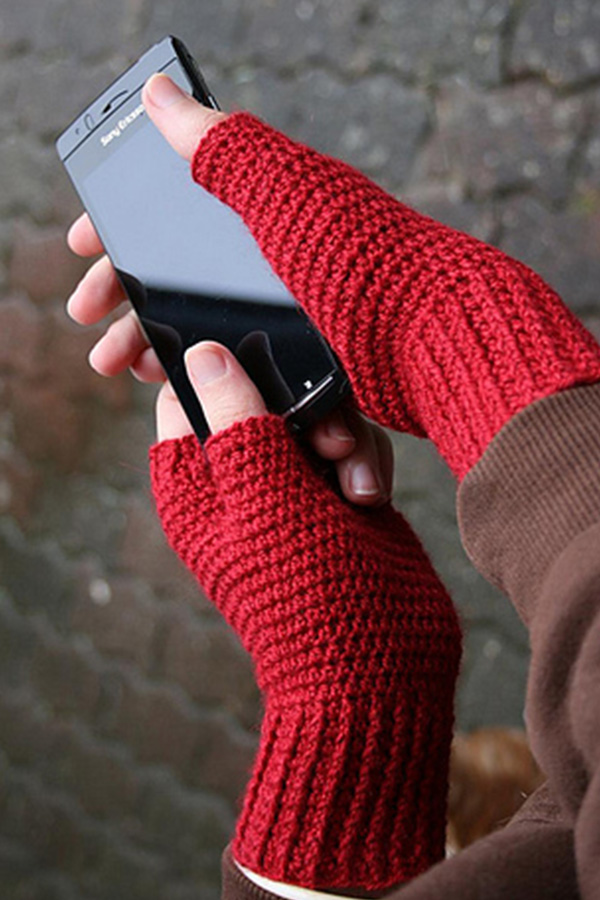 Dolphins fingerless gloves
Materials
Hooks size 5.5mm I-9 aluminum
Red heart super saver weight 4 turquoise blue
Red heart super saver weight 4 pumpkin orange
Are the materials needed
Its maybe 125 yrds to 140 yrds of material needed
This glove was inspired by my boyfriend, he loves Miami Dolphins, so why not join your team and sew gloves for him while playing pool, his favorite pastime.
I hope someday he does this professionally!
I suggest using only all aluminum hooks. Thanks to my tests, I learned that not all hook models are the same.
Anyway, have fun creating !!