CROCHET BLANKET
Free Quick And Easy Crochet Afghan Blanket Patterns For Beginners Ideas New 2021
Whether you a seasoned crochet aficionado or just want to learn to crochet, it is only natural to be on a lookout for a simple and easy crochet blanket tutorial – especially when it is free. Why choose this particular pattern out of all other blanket yarn patterns? Simply because it's perfectly suitable for beginners.
Most importantly, when you are just contemplating which pattern to pick for an easy crochet blanket, it is to decide what is the best crochet stitch to use. Noteworthy, many crochet professionals would name at least crochet stitches that will be best for an easy blanket.
First of all, decide what works best for you and, secondly, which stitch would be most suitable for the yarn you've picked. Based on its simplicity, for this chunky we would suggest a single crochet stitch (but with a simple modification) – one of the basic crochet stitches.
You may be wondering, Is single crochet stitch too easy and too simple to crochet a chunky blanket? Not at all! With the genius twist on this basic crochet stitch, we will show you how to create a wonderful chunky ribbed crochet blanket at no time.
Crochet Modern Moss Stitch Blanket
Materials
YARN
Caron One Pound (100% acrylic, 454g / 16 oz, 742 meters / 812 yards)
COLORS
2 skeins White, 1 skein Black
HOOK
Size J/6.0mm hook
TOOLS
Tapestry Needle, Scissors, Measuring Tape
SIZE
Finished size appx. 40 in x 53 in, Gauge 4 in = 8 moss stitches, 14 rows
Hey everyone, Hannah here, with a new update for this pattern! This blanket was one of the first crochet blankets I've ever made and the first pattern I ever wrote, so my beginner tension was a lot looser and varied than it is now. I thought it would be a good idea to remake this blanket and hopefully give everyone a better idea of how to make it the size that you want!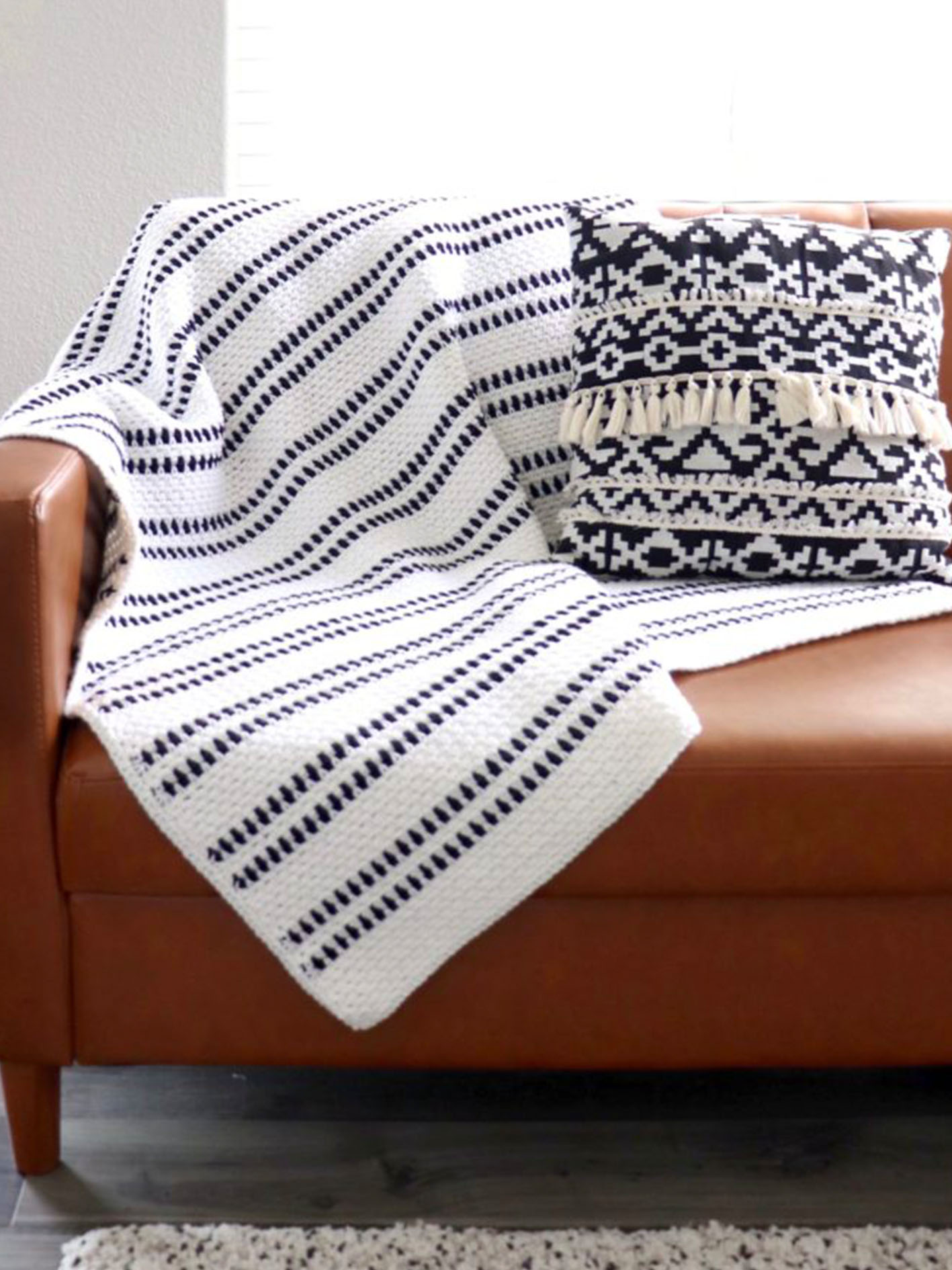 BERNAT LUSH LIFE BLANKET
Materials
Bernat® Blanket™ (10.5 oz/300g; 220 yds/201 m)
Contrast A Silver Steel (10001) 3 balls
Contrast B Vintage White (10006) 3 balls
Size U.S. N/15 (10 mm) crochet hook or size needed to obtain gauge.
Easily crocheted in Silver Steel and Vintage White, this favourite blanket fits with any home décor. Bernat, super bulky, chenille-style yarn is available in a range of stylish shades, so choose the color combinations that show your personal flair. Go from crib to bed with this versatile afghan that you can create in any size you imagine.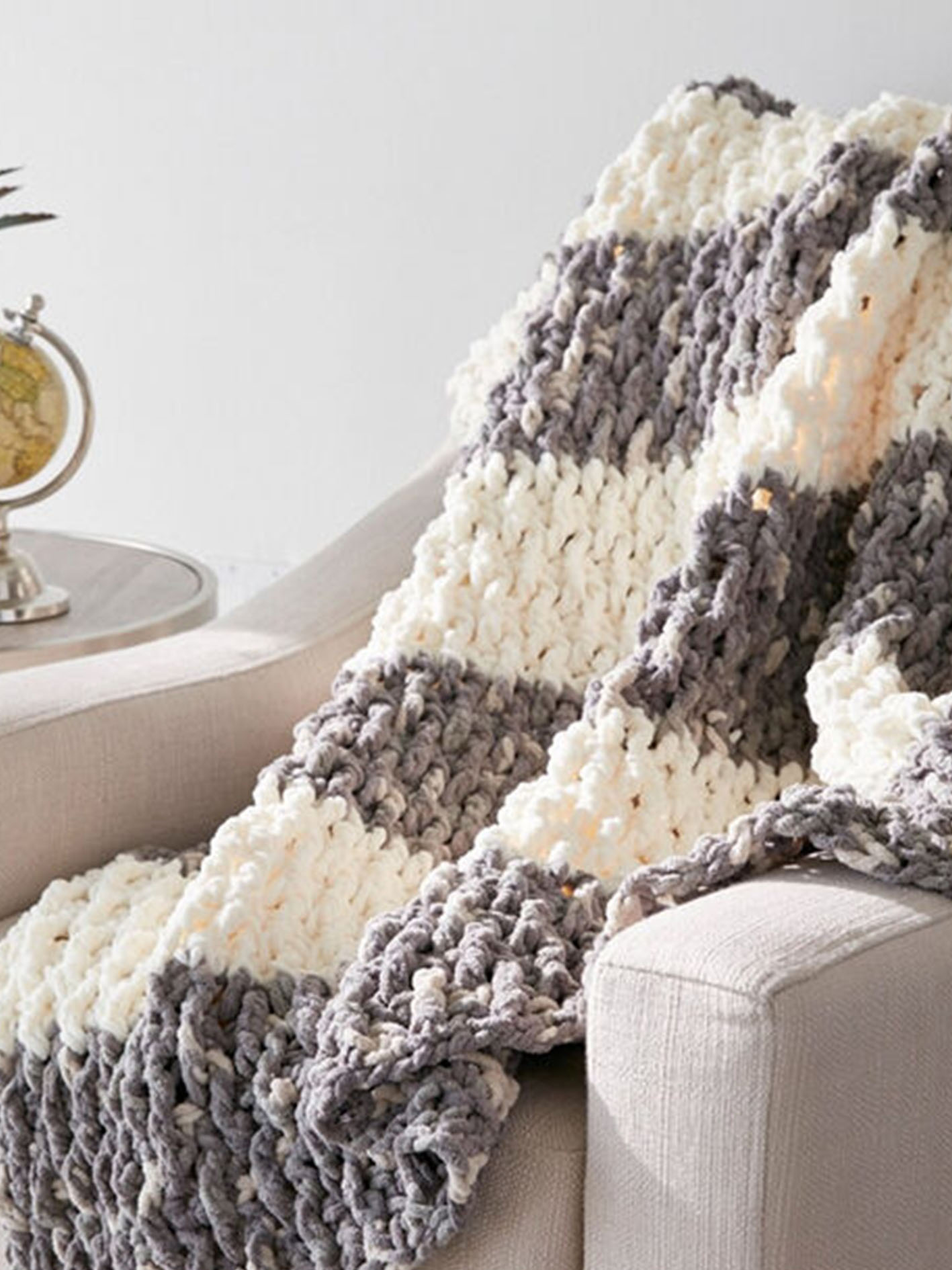 Nya Mosaic Blanket
Materials:
DK yarn in 7 or more/less colors. I used yarn "Colour Crafter" by Scheepjes (100g/3.53oz., 300m/328yds.) Crochet hook 4mm (G) or size needed to obtain the same gauge. Scissors, Tapestry needle to weave in ends.
Nya Mosaic Blanket is made in a special crochet technique with only basic stitches involved. It can be crocheted either by following chart or written instructions. With a little bit of attention and concentration you will create a bright and unique gift for yourself or your friends. The blanket is adjustable and can be made in any size.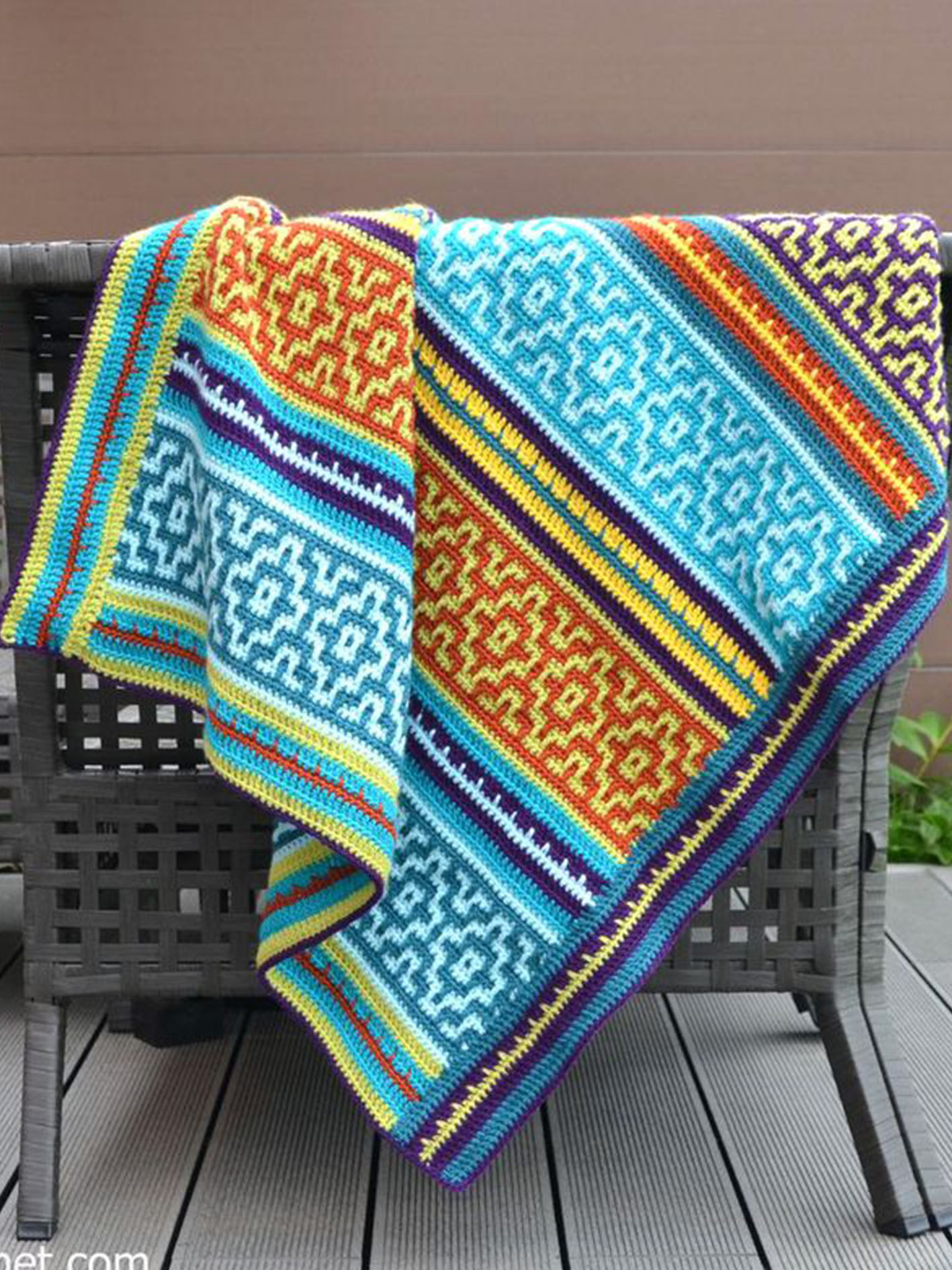 Single Crochet Chevron Blanket
Materials:
Finished size of blanket is approximately 34 inches X 34 inches.
7 Skeins I Love This Cotton in White
Size H hook
Scissors
Tapestry needle
So much has happened since I first published this single crochet chevron blanket in mint, gray, and white pattern over two years ago. This chevron pattern first appeared on my blogspot website when I had the idea to write down the patterns to the blankets I was making in hopes to become a grandma.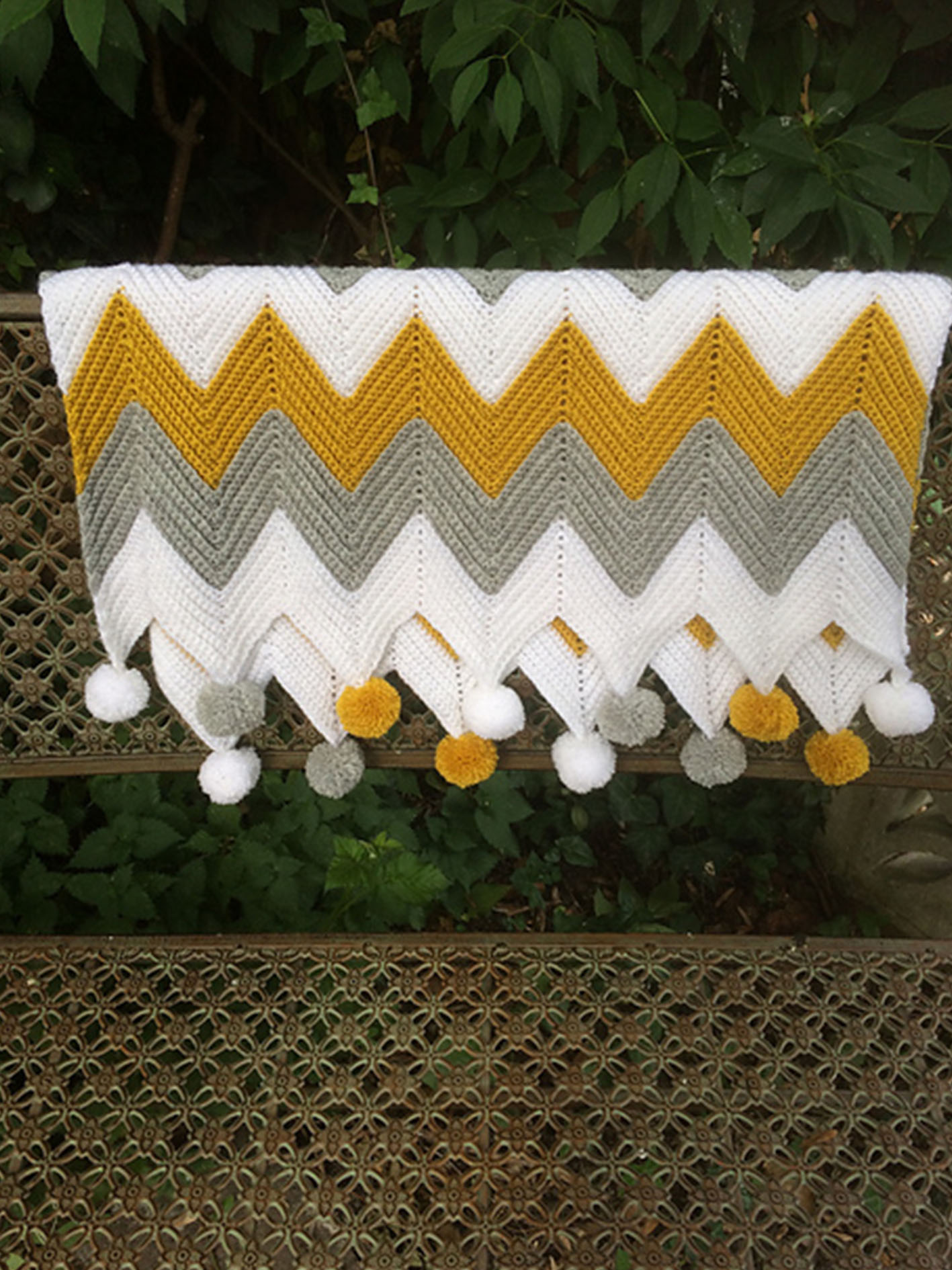 Honeycomb Stroller Blanket
Gauge
19 stitches and 24 rows=4″ (10cm) in pattern
What You'll Need
Yarn: Sport weight yarn: about 6oz (170g) each in 3 colors
We used: Bernat Baby Coordinates (75.2% acrylic, 22.2% acetate): Lavender (main color); mint green (color A); peach (color B), 1 ball each
Needles: US size 10 (6mm)
Notion: Tapestry needle
Note: Carry unused yarn loosely along edge; do not cut yarn at end of each color.
Unlike most typical baby blankets, this one features a unique honeycomb pattern. It may look complicated, but the pattern is actually easy enough to master. The blanket's small size, perfect for a stroller or crib, is another welcome feature.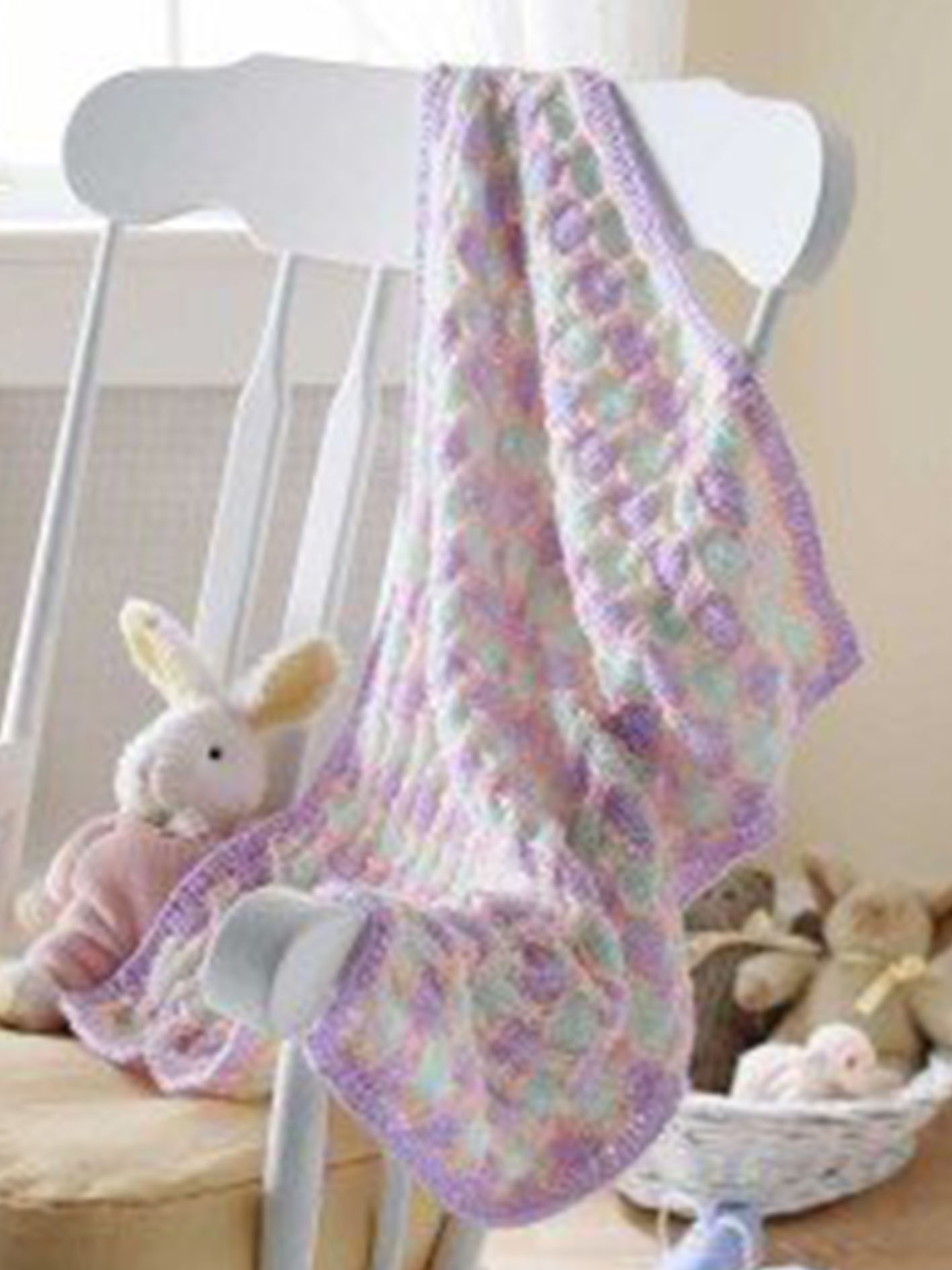 Little Lamb Baby Lovey
Materials:
Lion Brand Yarn Feels Like Butta (Weight: 4/Medium – 3.5oz, 218 yds) and Touch of Alpaca (Weight: 4/Medium — 3.5oz, 207 yds)
Butta Color: White – 1 skein
Alpaca Color: Taupe – 1 skein
Size G/6 4 mm hook
8mm safety eyes (pair)
Polyfil stuffing
1 yd black yarn or crochet thread (for sewing nose and mouth)
Tapestry needle
Stitch markers (optional)
Measuring tape or ruler
You may remember the Little Crochet Lamb and Crochet Baby Bear Lovey I made a while ago, and while my son Parker loves them – they're getting worn out. So I've teamed up with my friends at JOANN to bring you a super cuddly mashup of the two – a little lamb lovey!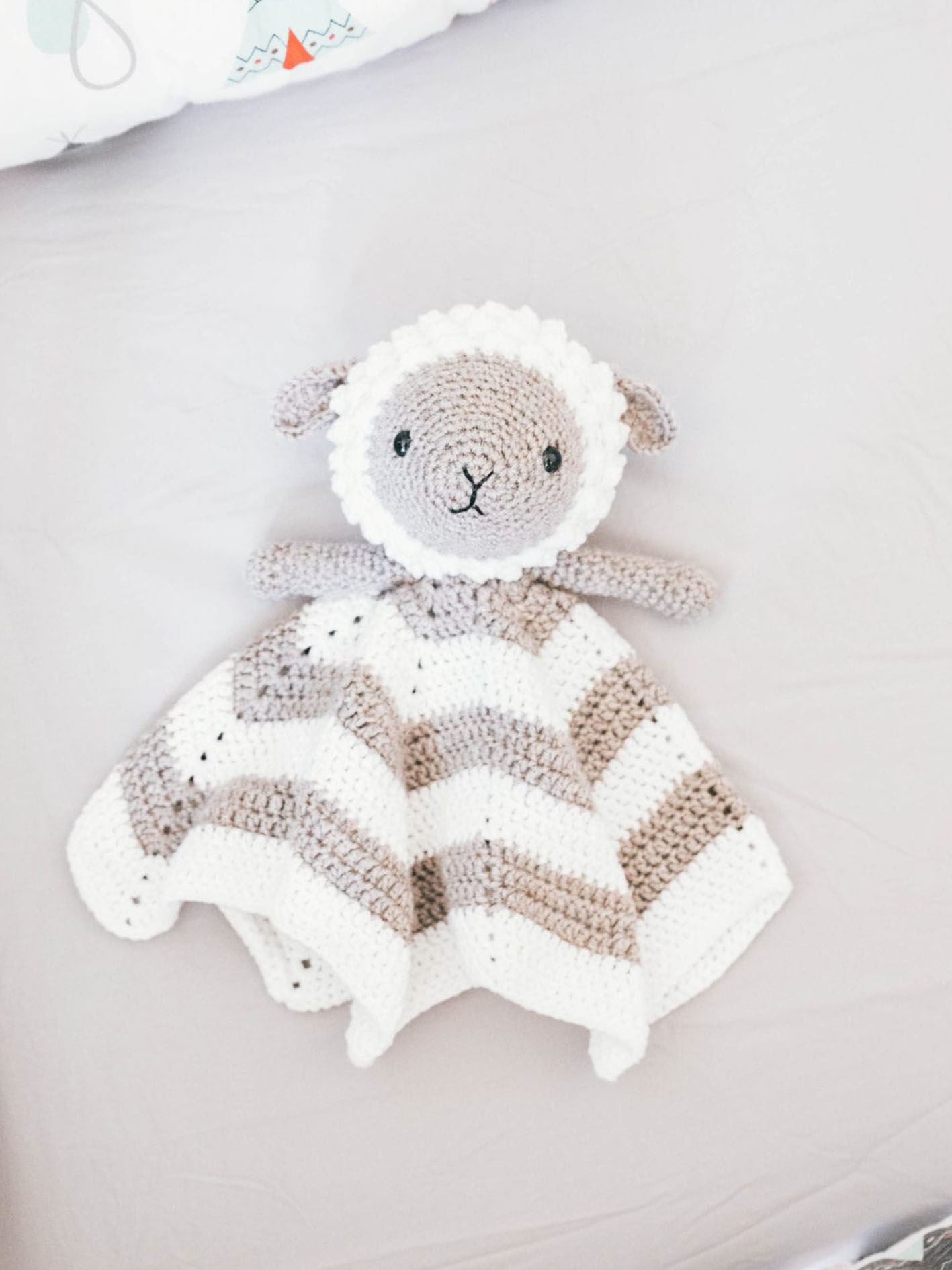 No-Purl Ribbed Blanket
MATERIALS
8 (16) skeins of Purl Soho's Season Alpaca, 100% baby alpaca. We used Heirloom White.
US 4, 32-, 40-, or 47-inch circular needles
GAUGE
32 stitches and 48 rows = 4 inches in stitch pattern
With a simple 2-row repeat of knit and slip stitches, the No-Purl Ribbed Blanket pattern is made for momentum. The rows swiftly multiply, forming a deep, plush texture known as a Cartridge Belt Rib. Extend your laid back summer mindset with this pattern that takes minimal effort with maximal outcome.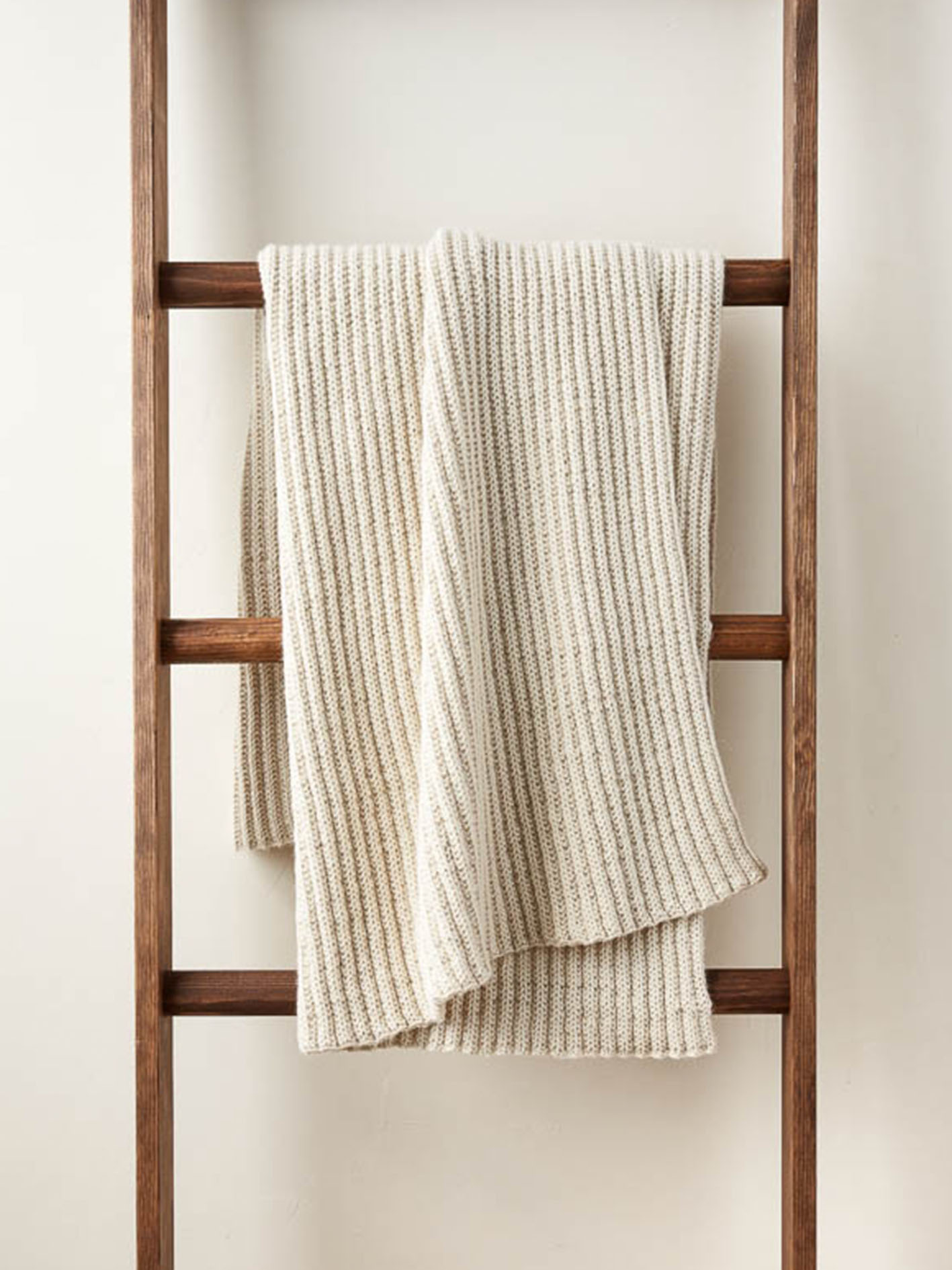 Charlotte's Dream Blanket
Materials
3.5 mm crochet hook (US 4/E, UK 9)
Scheepjes Stonewashed (Sport weight/#2)
Contrasting Colours (CC)/ Colour A* – 2 skeins (220 meters) each of Rose Quartz (820), Yellow Jasper (809), Lilac Quartz (818), Garnet (810), Deep Amethyst (811), Lemon Quartz (812), Carnelian (823), Amazonite (813), Canada Jade (806), Blue Apatite (805), Coral (816), and Green Agate (815)
Main Colour 1 (MC1)/ Colour B* – 12 skeins (1500 meters) of Moon Stone (801)
Main Colour 2 (MC2)/ Colour C* – 12 skeins (1450 meters) of Smokey Quartz (802)
This blanket was made by my dear friend Jenny and consists of 12 Charlotte squares in 12 different colours. It is bordered with a simple popcorn edge. From the very first square, this blanket sparked my imagination. I keep imagining myself sitting on it under a huge tree, reading a really good book while the dappled sunlight dances over the pages.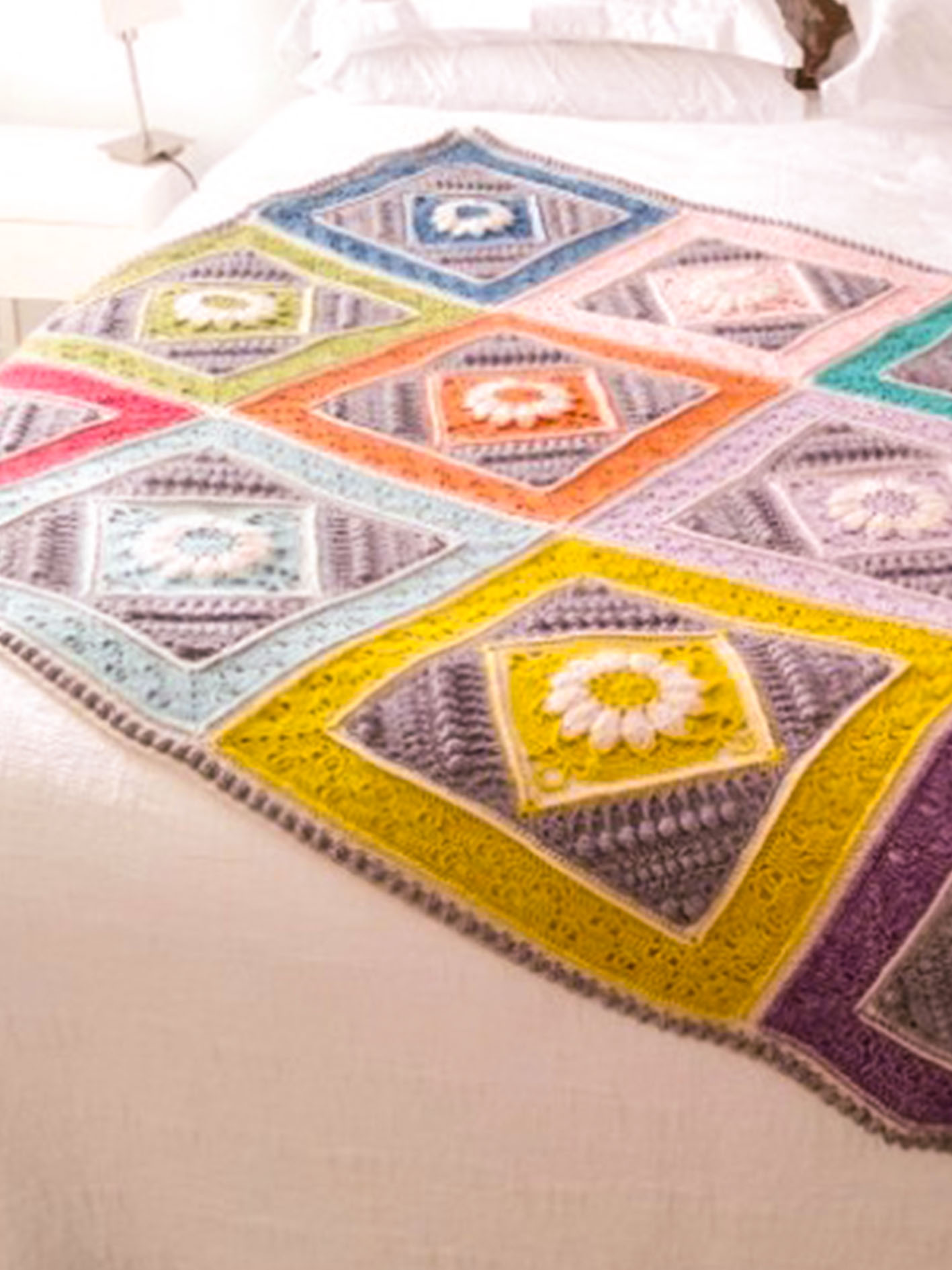 Tonal Blanket
Materials
Our Tonal Blanket Bundle makes the Crib Size blanket (just add 5 more skeins of the Main Color to make the Throw Size). The Bundle includes…
10 skeins of Purl Soho's Season Alpaca, 100% super baby alpaca
Choose from two palettes, shown above…
Warm Bundle
Main Color (MC): 5 skeins in Heirloom White
Color A: 1 skein in Peony Pink
Color B: 1 skein in Honey Pink
Color C: 1 skein in Pink Taupe
Color D: 1 skein in Baby Fawn
Color E: 1 skein in Burnt Sienna
Cool Bundle
Main Color (MC): 5 skeins in Heirloom White
Color A: 1 skein in Lavender Moon
Color B: 1 skein in Dove Gray
Color C: 1 skein in Trout Brown
Color D: 1 skein in Ebbtide Blue
Color E: 1 skein in Stillwater Blue
US 4, 40-, 47- or 60-inch circular needles
GAUGE
Unblocked: 28 stitches and 56 rows = 4 inches in the slip stitch pattern
Blocked: 26 stitches and 52 rows = 4 inches in the slip stitch pattern
A waffle-like texture and a beautiful spectrum of pinks, peaches, and russets, our Tonal Blanket is truly a stunning knit. And as it turns out, all this beauty is only as challenging as a simple slip stitch, which means beginners can learn something new and make something gorgeous without being in over your head!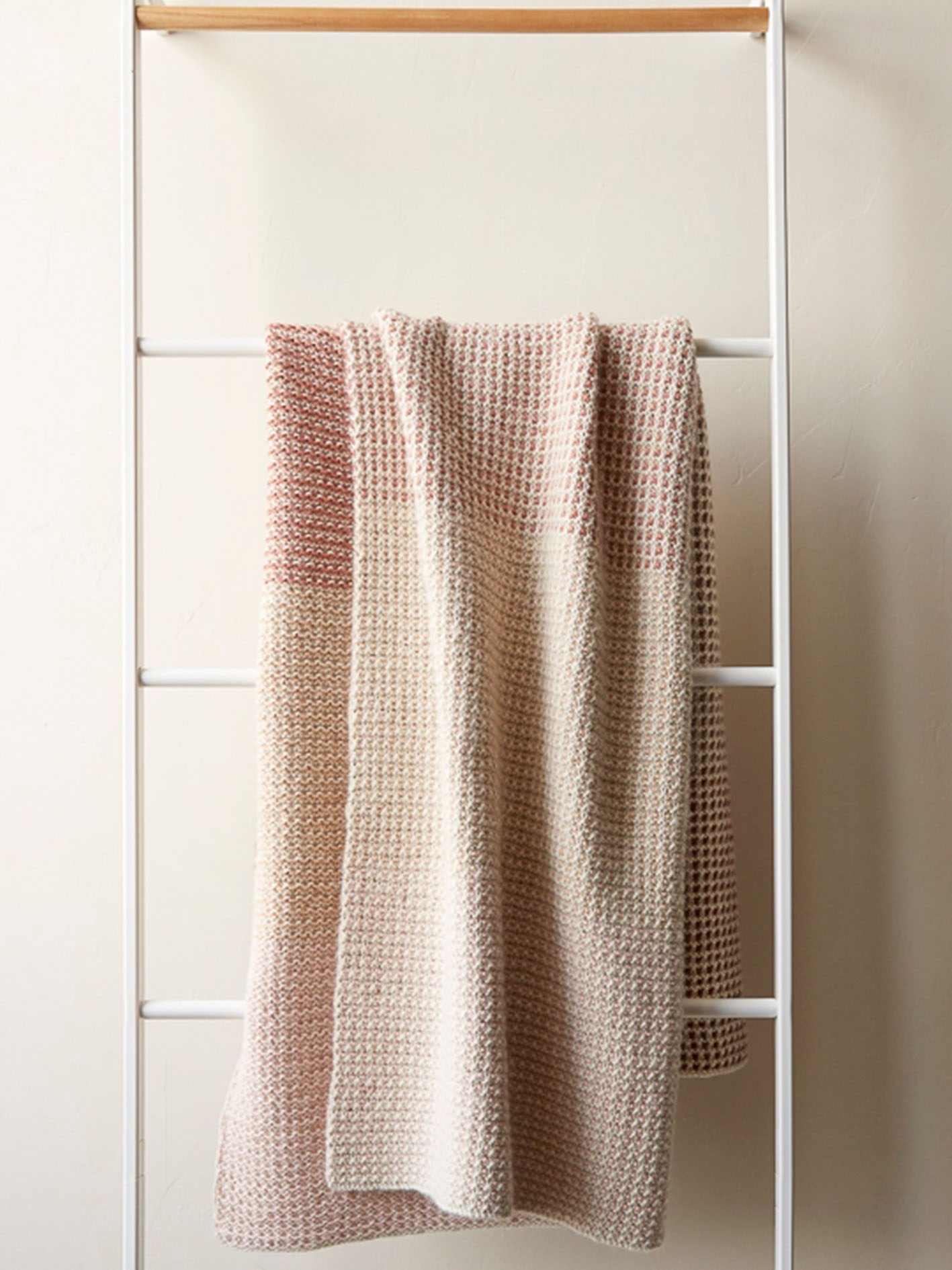 Tributary Baby Blanket
Supplies:
Buy a kit with all the yarn you'll need, plus a printed copy of the pattern here.
• COLOR A: Lion Brand Mandala Baby (Weight: 3/light – 590 yds, 5.3 oz)
–Echo Lakes (#526-205) – 2 full skeins (approx. 300 g)
• COLOR B: Lion Brand Baby Soft Boucle (Weight: 5/bulky – 120 yds, 3.5 oz)
–White (#918-100) – 4 skeins (approx. 370 g)
• Tapestry needle
• Size K (6.5 mm) crochet hook
Measurements:
35 x 35"
Gauge:
4 dc clusters + 3 sps = just over 4"
A few months ago when I was visiting Lion Brand in NYC, I got my yarn-lovin' paws on some skeins of a new yarn called Baby Soft Boucle and guys, this stuff is some serious kind of soft. It's so fluffy and pillowy that it's really what I imagine babies would crochet with if their little hands could manage.
Boho Puff Stripes Blanket
Materials
5 (5oz) balls of Yarn Bee Soft and Sleek in Mauve (size 4 acrylic yarn)
Size J, 6mm hook
Tapestry Needle
Scissors
Measuring Tape
Hi there it's Hannah, I've been having fun these last few weeks working on some new baby blankets after all the hats and scarves I made during Christmas! I have a lot of friends and cousins who are expecting babies in the next few months, so I have a lot of blankets to get done!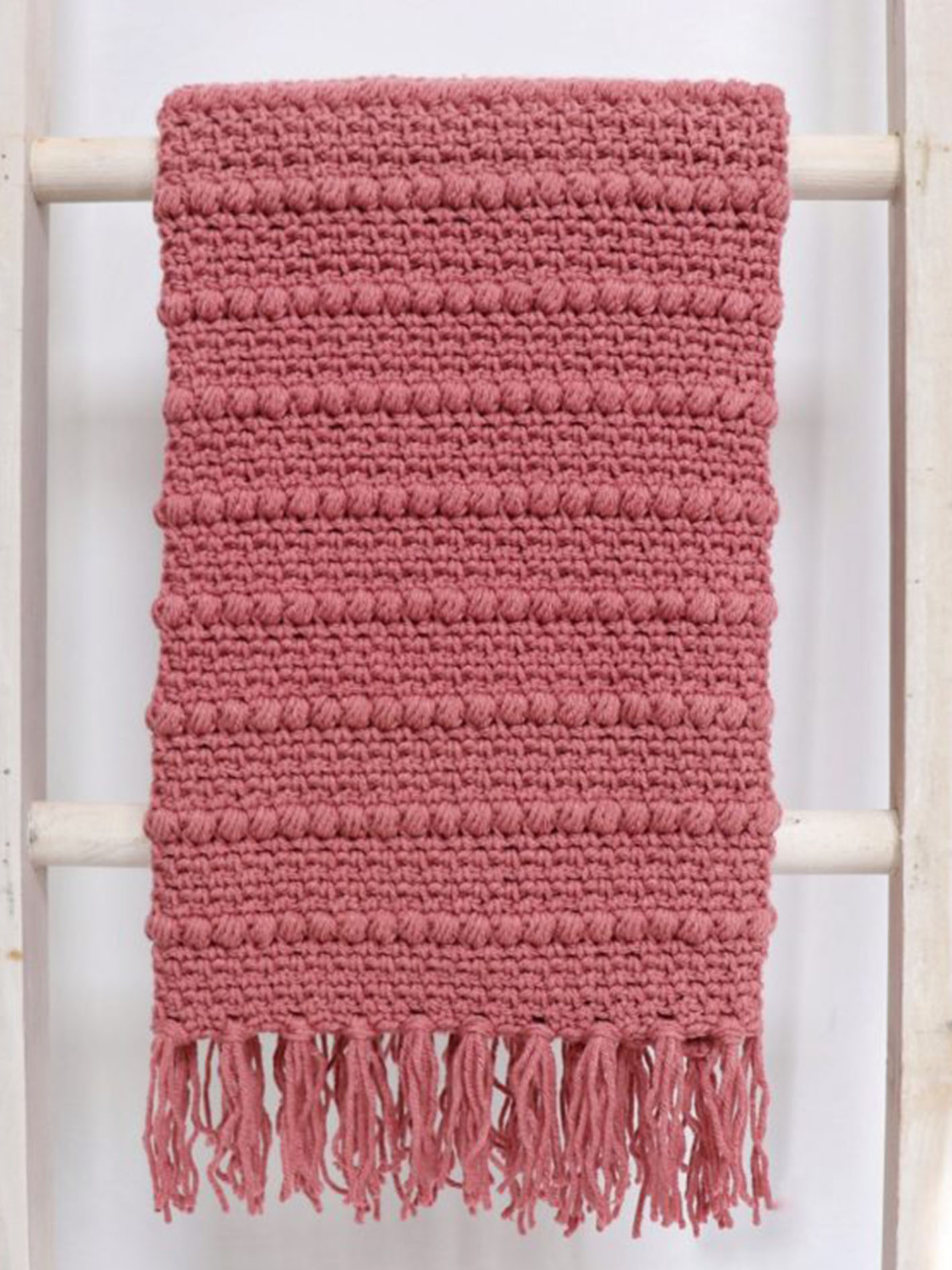 Sideways Shell Baby Afghan
Materials
18 oz. of 4-ply machine washable yarn
Gauge
With size I crochet hook, 1 cluster= 1 inch, and 3 rows = 2 inches
A private group of blanket makers at Prudential Financial meet twice a week during their lunch break to teach people how to crochet. The cost of these lessons is that the first blanket made is sent to the Linus Project. In our group, those who are new to crochet are determined as "beginners". I designed this easy pattern especially for beginners.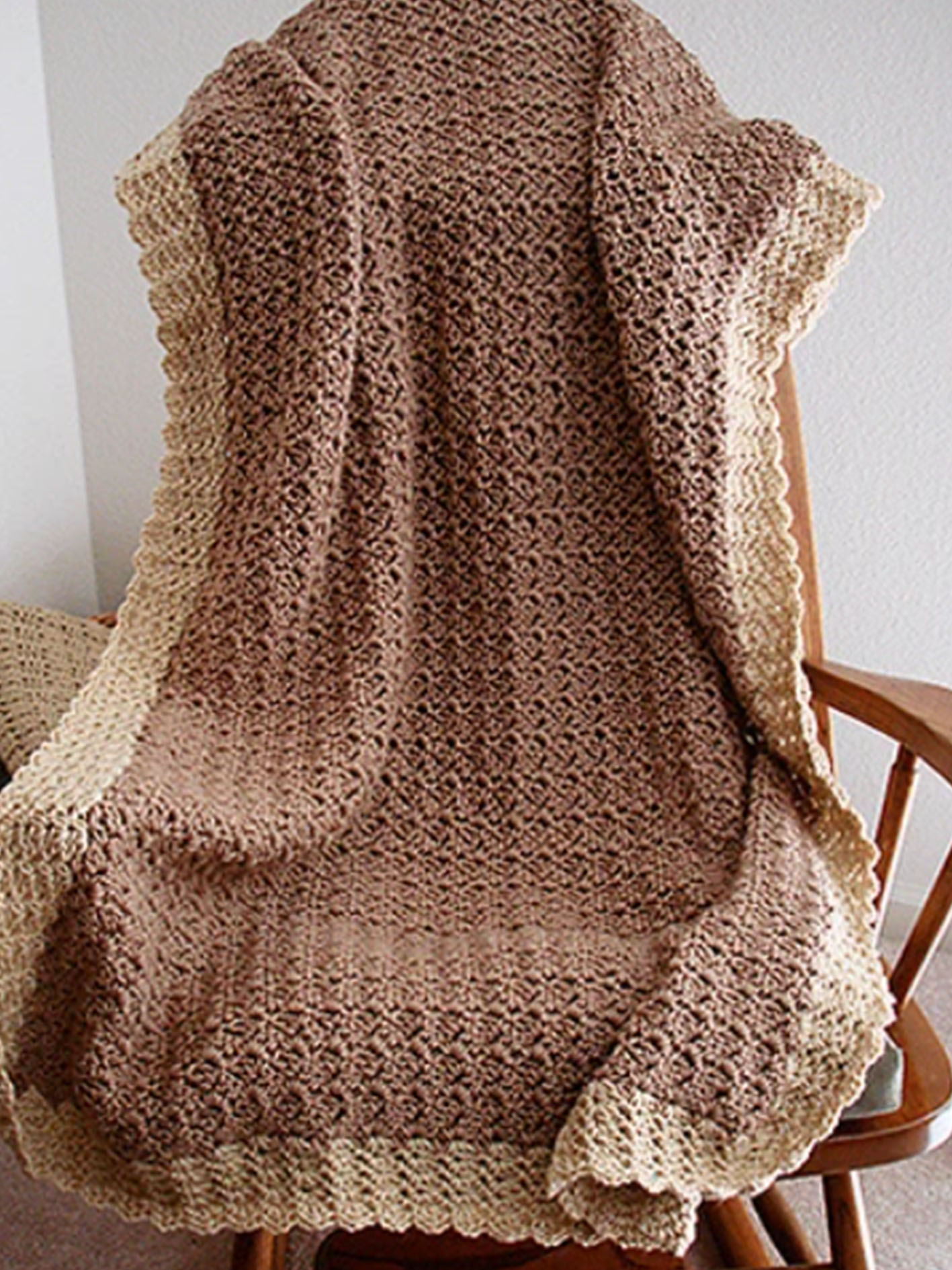 Terra Blanket
SUPPLIES
14 skeins of Lion Brand Wool Ease yarn (3oz/85g, 197yds/180m)
8 skeins of MC (White), total yardage: 1576yds/1441m
6 skeins of C1 (Yellow), total yardage: 1182 yds/1081m
Size 11/8mm 32" or longer circular knitting needles (Adjust as necessary to obtain correct gauge)
Scissors
Tapestry needle
GAUGE
12 sts and 19 rows in 4 inches of stockinette, unblocked
Keep things bright and simple in your home with this modern buffalo plaid knitted blanket. It's got just enough color to add an accent to a room without feeling too busy. Unlike a quilt, the Terra Blanket is knit up in rows, not pieced together as blocks, which means there's no seams!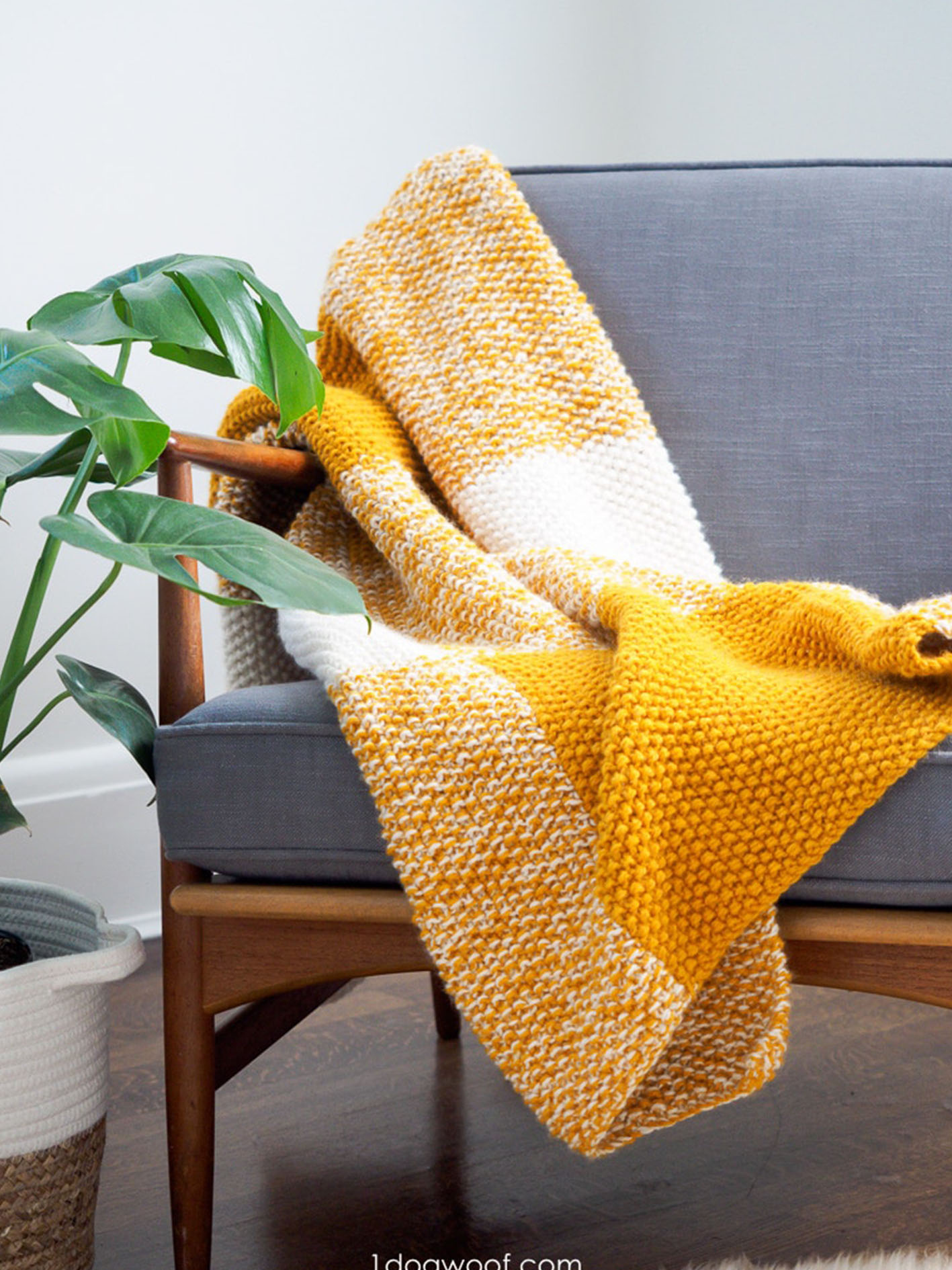 Stitch Sampler Scrapghan
Materials:
worsted weight yarn & J/6.0 mm hook
I used a J/6.0 mm hook for the entire blanket. Some of the stitches are tighter or looser than others and you can change your hook size to account for this. I will add this information to the 'Pattern Notes' section for the weeks you might want to adjust your hook size.
Approx. finished size (including border): 40″ X 48″
I like to do things pretty casual for a crochet along. There is no "signing up" to join, you simply follow along with the pattern as the different sections get posted!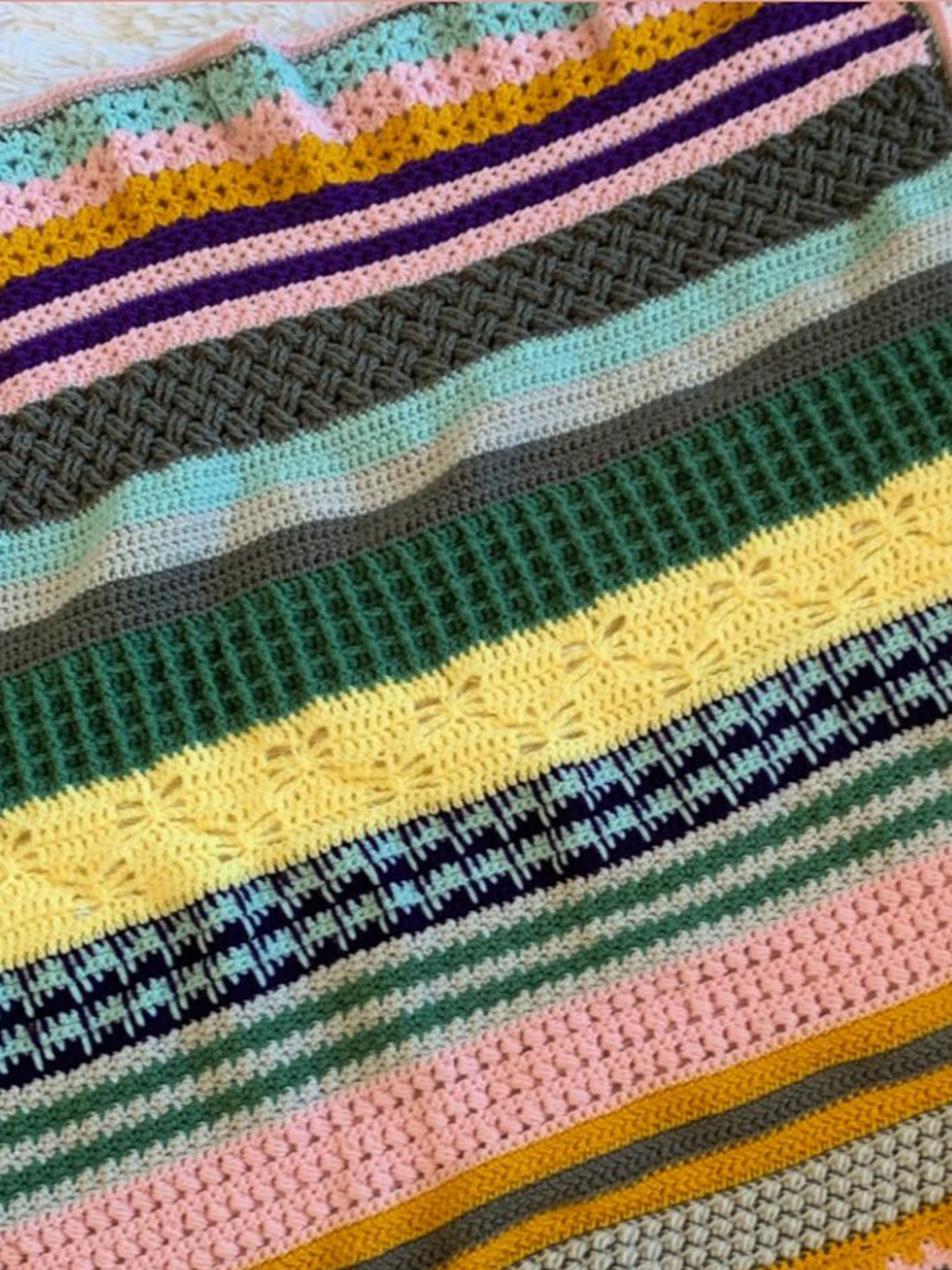 The Sherbet Baby Blanket
Materials:
3 Skeins of Lion Brand Mandala Ombré in Tranquil
1 Skein of Lion Brand Basic Stitch in Snow
I/9 (5.5 mm) Crochet Hook
J/10 (6.0 mm) Crochet Hook
For yarn substitutions I used approximately 160 yards of Snow yarn and approximately 1000 yards of Tranquil.
I recently made this C2C Moss Stitch Blanket and enjoyed it so much that I went straight into another. I loved working with the stitch. Since I had heard the moss stitch pairs well with self-striping and variegated yarns, I had to try it for myself. The result, the Sherbet Baby Blanket Pattern.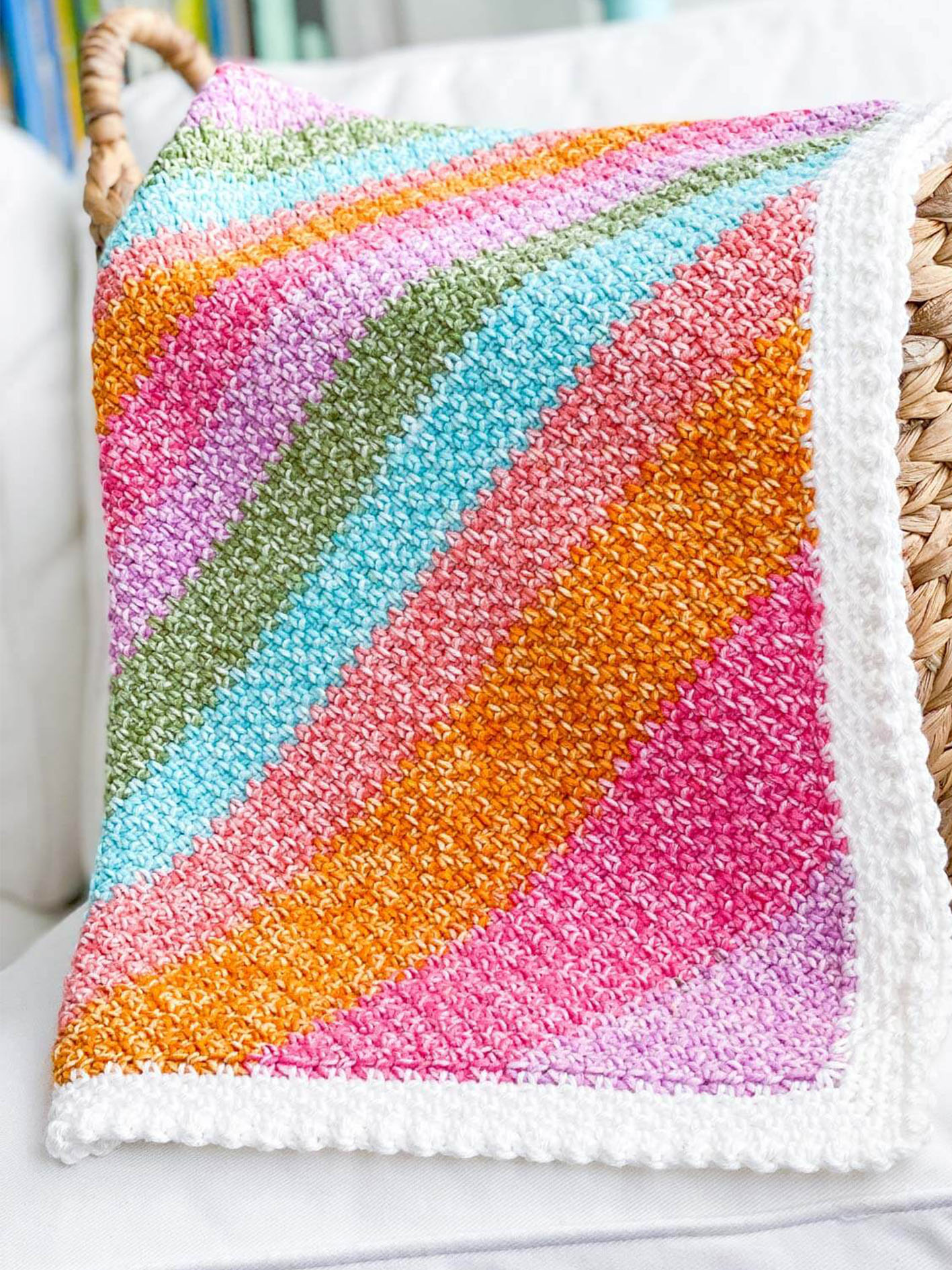 Hudson's Bay Inspired Crib Blanket
Materials:
Anzula's For Better Or Worsted, 80% Superwash Merino Wool , 10% Cashmere and 10% Nylon. You'll need:
6 skeins of Au Natural
1 skein of Teal
1 skein of Ducky
1 skein of Candied Apple
1 skein of Juniper
A US #7, 24 or 32 inch circular needle.
GAUGE
19 stitches = 4 inches in garter stitch
Originally, the Hudson's Bay Blanket's lightweight warmth and insulation made it common barter for Native American goods, like beaver pelts, buffalo robes and moccasins. But in the last three hundred years the Hudson Bay Blanket has come a long way. Now it is practically a national symbol to many Canadians, and to the rest of the world, an unmistakable design icon.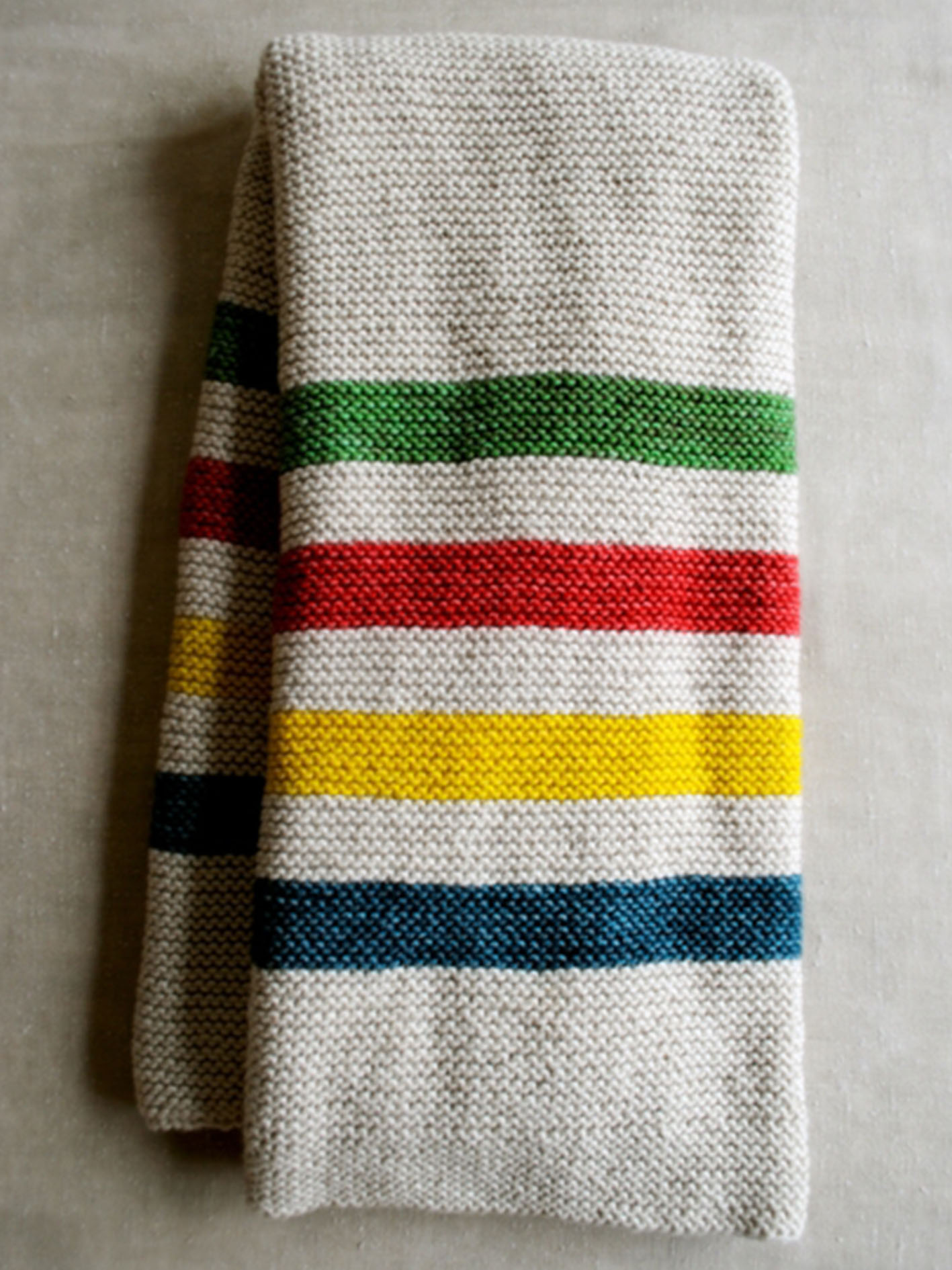 Wildwood Plaid Blanket
Materials:
7 skeins Lion Brand Hue + Me in Magic Hour (617-108) for Color A
2 skeins Lion Brand Hue + Me in Desert (617-099) for Color B
2 skeins Lion Brand Hue + Me in Ozone (617-105) for Color C
2 skeins Lion Brand Hue + Me in Peacoat (617-110) for Color D
Size US N/P (10mm) crochet hook
Tapestry needle
FINISHED SIZE:
Width: 47"/119.5cm
Length: 52"/132cm
*note that the dimensions will be slightly different before adding the weaving, which stretches the stitches widthwise.
GAUGE:
7.5 sts + 4.5 rows = 4"/10cm in double crochet
If you've been following me for a while you may remember the Rosebridge Plaid Blanket Scarf I released right around this time last year. I guess late winter gives me plaid vibes, haha. While that accessory was worked up in Lion Brand ReTweed, I re-engineered the technique for my beloved Hue + Me for this full blanket edition.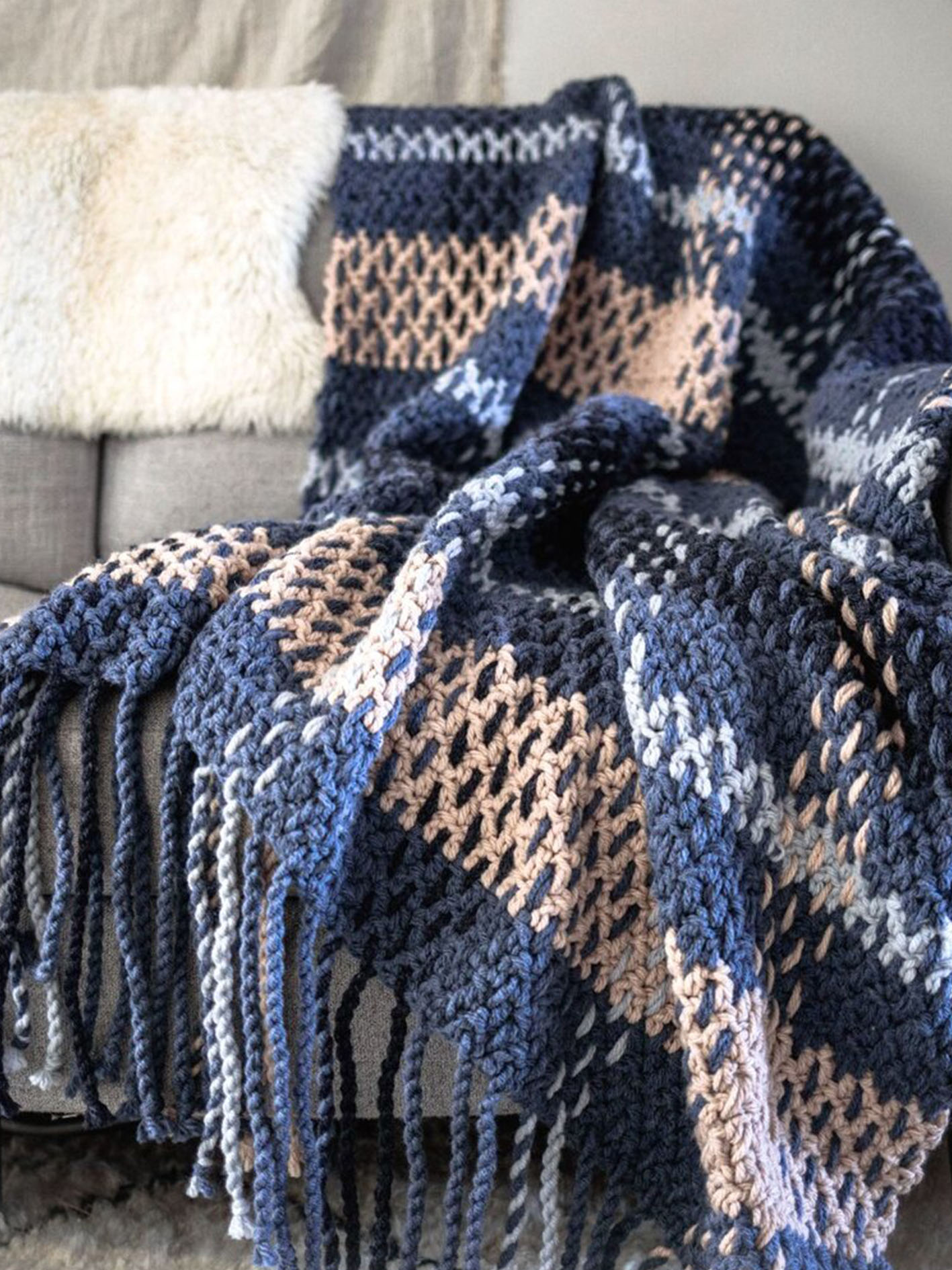 Bradley Afghan
Materials:
1270 total yards bulky weight wool blend yarn (sample made with Lion Brand Hue + Me
10mm crochet hook
Scissors
Tapestry needle
Locking stitch markers
The Bradley Afghan takes the basic crochet linen stitch and turns it on its head. If you can single crochet, you can make this blanket (especially with the included TUTORIAL VIDEO!). Keep scrolling for the free pattern.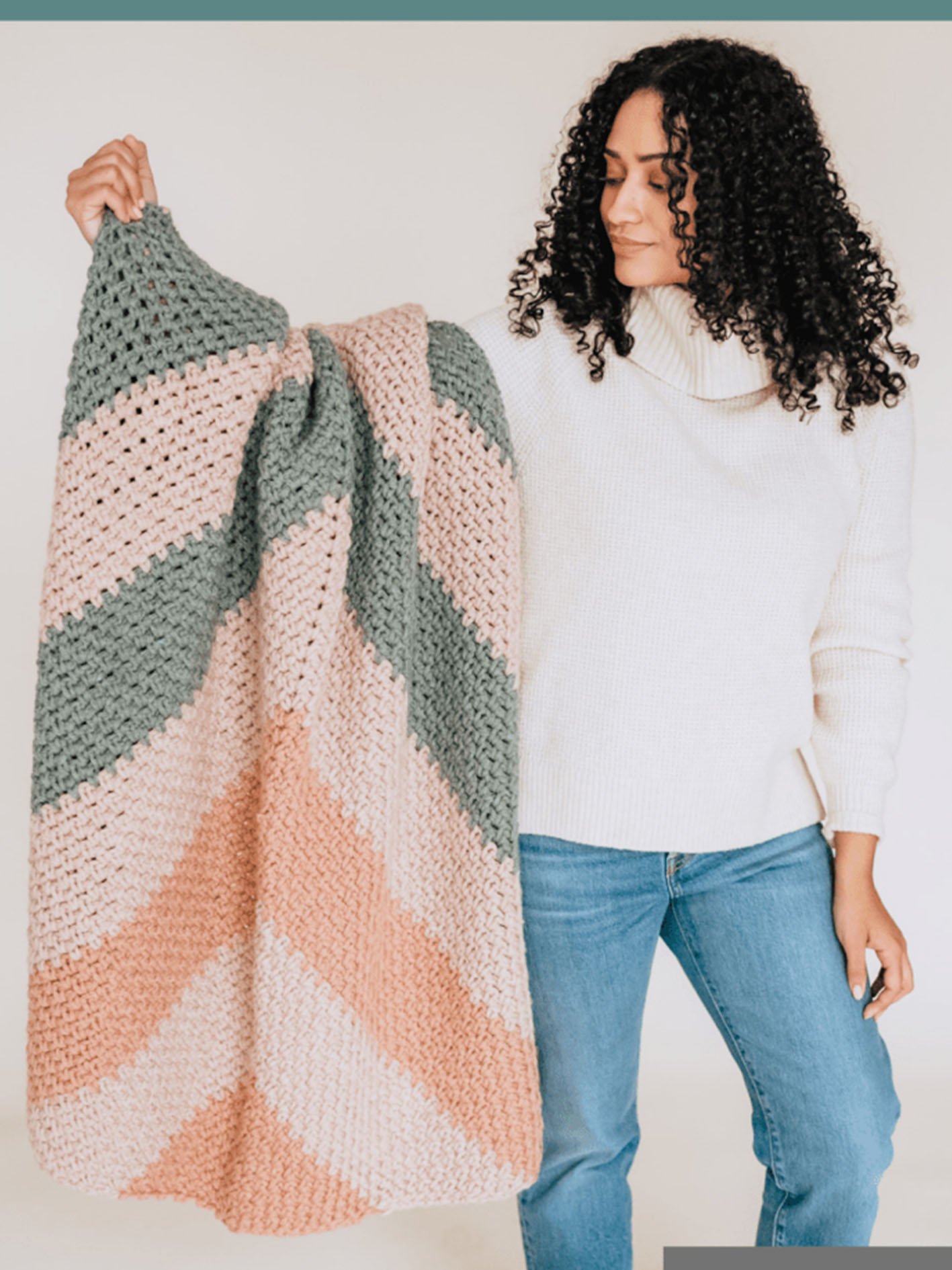 Cozy Clusters Baby Blanket
What you will need
Here is what you will need to make this gorgeous baby blanket:
A size J-10 (6 mm) Crochet Hook.
6 Skeins Knit Picks Mighty Stitch Bulky Yarn in Blush.
Scissors.
If you're looking for a fun, quick project then you'll love making this baby blanket. I designed it to be crocheted with a large hook and bulky weight yarn to build up super fast for those of you who don't have the patience for larger projects. An added bonus – this thick and soft blanket is sure to keep your baby cozy and warm in the upcoming winter months.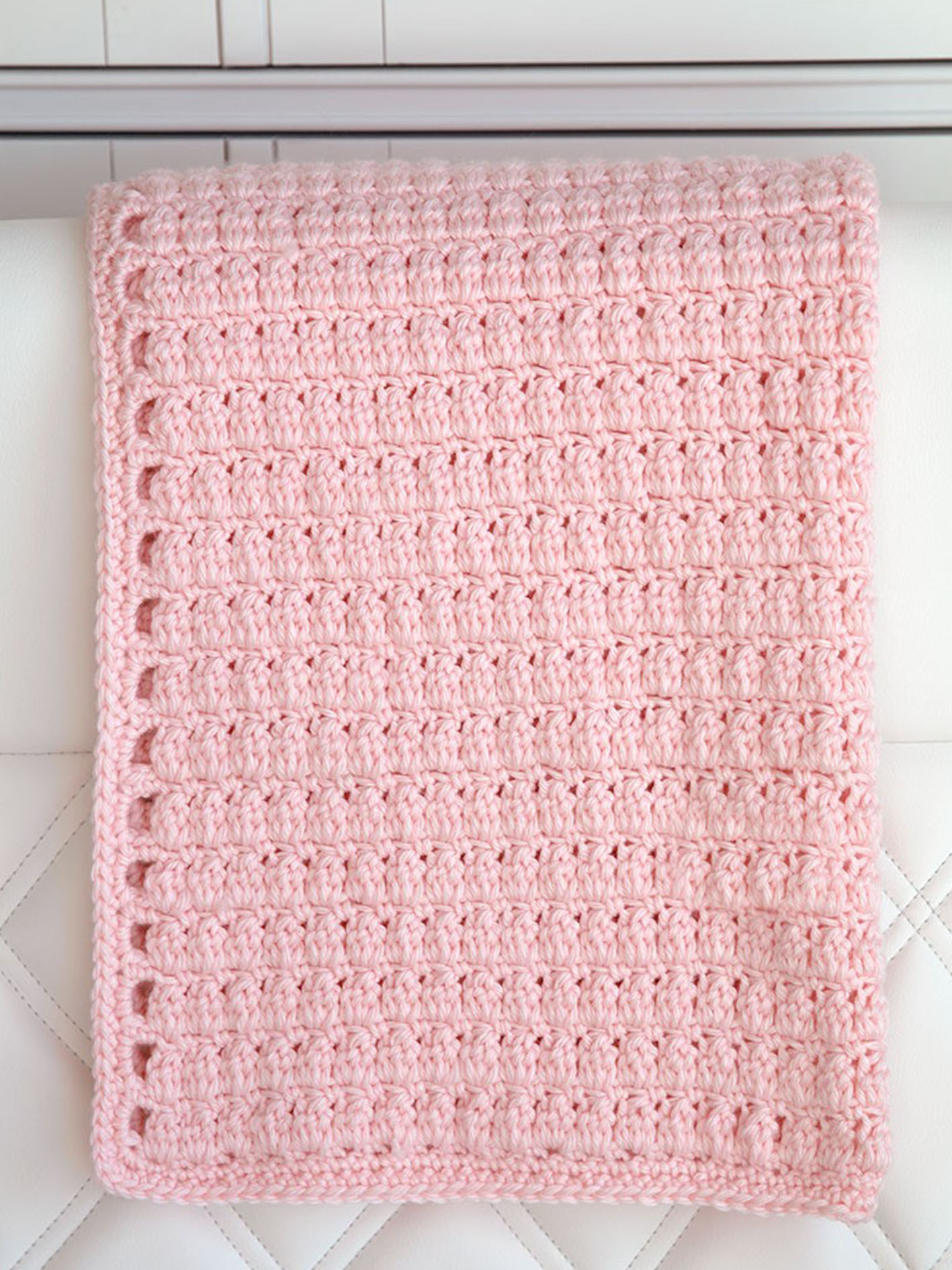 Autumn Textures Blanket
What you will need
9.0 mm "N" crochet hook
8 Balls of Lion Brand Wool Ease Thick & Quick (I used the "Slate" "Pumpkin" "Fisherman" and "Mustard colorways) Don't have this yarn on hand? No worries…check out my Yarn Substitutions Guide here!
Tapestry Needle
Scissors
Tape Measure
Welcome to the 2020 Fiber Flux Fall Crochet Along…hooray! Today marks week one of the CAL and we'll be learning about the beautiful project we'll be making…the Autumn Textures Blanket! This is a very easy and fabulously cozy blanket that is an amazing addition to your home for fall!